St Paul's Carnival: Scaled-down event honours elders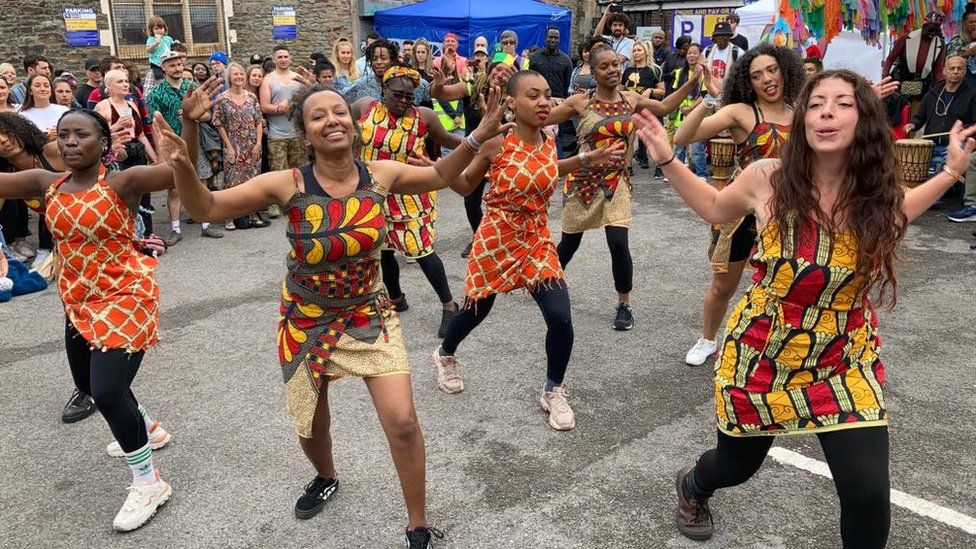 Hundreds of people attended a "scaled-back" St Paul's Carnival focused on going "back to its roots".
Instead of a parade and sound systems, artists, food vendors and the community's elders were highlighted in the Bristol event.
Carnival organisers said it was a "thank you" to the people who had supported them during the pandemic.
St Paul's Carnival executive director LaToyah McAllister-Jones said the "full fat carnival" will return next year.
The Bristol festival celebrating African-Caribbean culture normally attracts an estimated 100,000 people.
"It's a colloquial saying that comes from the islands. It means back home, back with your friends, in your back yard," said Ms Jones.
"The idea of Back A Yard is about coming back to the community .
"Its a bit of a love letter to our community, saying thank you to St Paul's for supporting us right throughout the pandemic.
"We were very disappointed that we weren't able to bring it back this year. It's [been] challenging."
Glen's Kitchen restaurant owner Glen Crooks, also known as chef, said he enjoyed making the elders brunch this year.
"They've been here so long. If they hadn't come here I wouldn't be here," he said.
"So its very important for us to look after them. I like cooking for them and singing for them.
"They came here back in the days and had to leave that all behind, but the good thing is that they brought it here."
St Paul's Carnival event producer Esther Afikiruweh said she also enjoyed celebrating the elders annual brunch.
"Its an event that we have every year whether there's the big carnival or not, honouring and celebrating the elders of St Paul's community," she said.
"We've had the opportunity to go back to the roots of carnival. It's reminding us why we put this on in the first place."
Related Internet Links
The BBC is not responsible for the content of external sites.