Lloyds Bank police probe may get more funding after angry meeting
By Steve Brodie
BBC West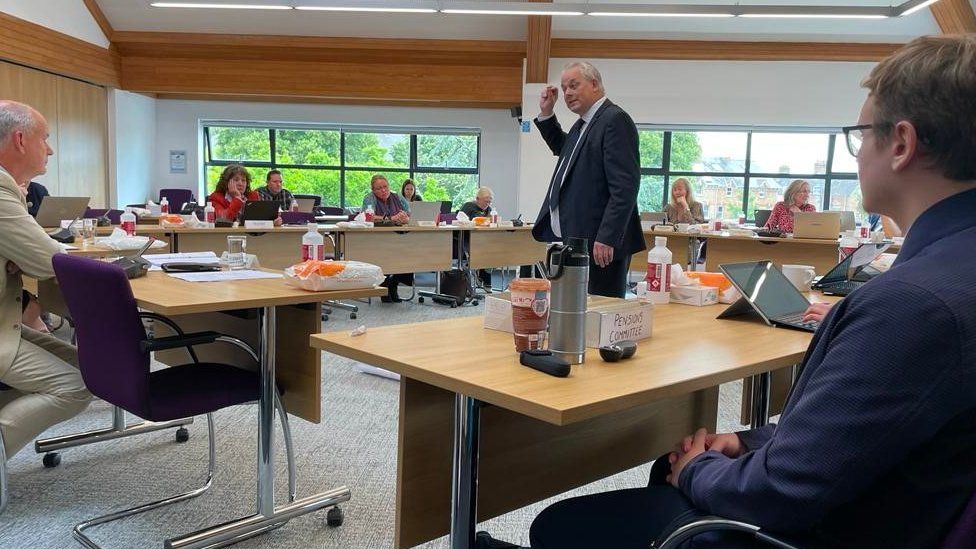 A police probe into the handling of historic fraud allegations against Lloyds Bank could get more funding.
More than 200 alleged victims of the firm's Bristol business support unit have been fighting for their claims to be investigated.
Avon and Somerset police and crime commissioner, Mark Shelford, said it was possible that more funding could be allocated if criminality was found.
Lloyds Banking Group has strongly denied any wrongdoing.
The firm added that no evidence has ever been found to suggest any fraud took place.
However, several business owners, who missed loan payments, allege they have been financially ruined by the firm.
Mr Shelford's statement came following angry scenes from protesters.
Police officers were called to the meeting when around 30 members of the Lloyds Bank Victims Group arrived to discover the Avon and Somerset Police and Crime Panel would not be debating their questions about how the allegations have been handled so far by both the force and the panel itself.
During Tuesday's meeting, campaign leader, Trevor Mealham, refused to sit down and clashed with panel chairman, Heather Shearer.
She said: "This panel has no investigatory or judicial powers and no powers to direct or influence the constabulary".
Amid continued interruptions she explained she was sending all the written questions and statements to the Police and Crime Commissioner's (PCC) office.
The PCC attempted to make his own statement but was also interrupted by the protesters.
Mr Shelford said he was very sympathetic to the victims' circumstances.
"I have personally met and listened to many people and the awful impact it has had," he said.
"For some people I know it has absolutely ruined their lives."
But he pointed out that his role was not operational and he did not have the power to instruct investigations.
Further interruptions followed from Mr Mealham resulting in the meeting being halted and protesters escorted from the room.
Two hours later, the PCC met the protestors and announced the extra funding, which they welcomed.
Mr Shelford said: "I have discussed providing further funding with the chief constable in this area, where we are happy there are cases that show criminality".
The funding would also include other fraud cases, the PCC said.
Avon and Somerset Police are already facing an investigation by an outside force into how allegations of fraud were leaked to the bank.
Related Internet Links
The BBC is not responsible for the content of external sites.