Celebrities voice trail for Bristol Animal Rescue Centre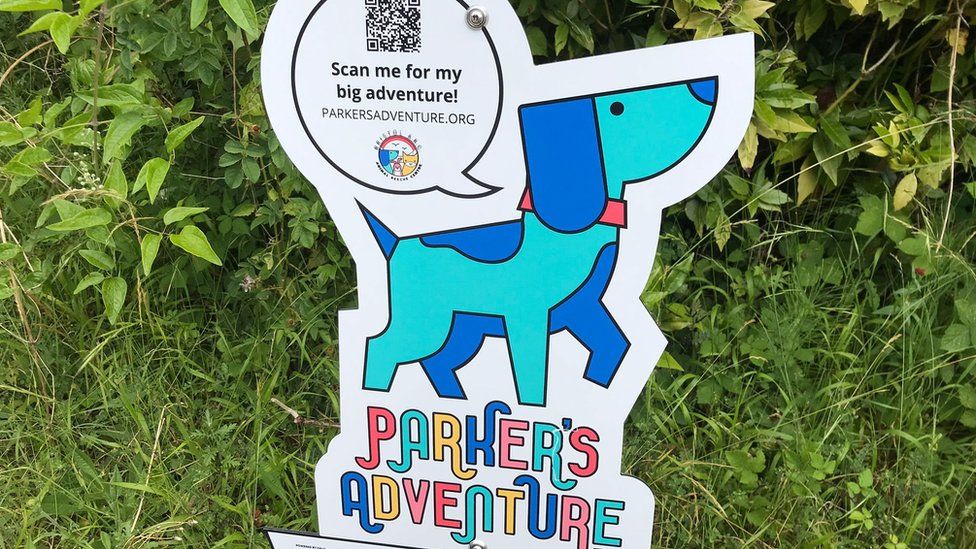 An interactive trail has launched to celebrate the 135th anniversary of Bristol Animal Rescue Centre (BARC).
People can now follow the trail of 13 dogs named Parker placed around the city, and watch animated films of his exploits via an app.
Celebrity Bristolians, including actor Tony Robinson and Great British Bake Off's Giuseppe Dell'Anno have voiced the characters for the trail.
"I have to say I enjoyed it massively," said Mr Dell'Anno.
Each of the dogs has a QR code, which when scanned via the app, unlocks animations and some clues to complete the trail, called Parker's Adventures.
The BARC was founded by local man Edward Parker who found a puppy in the snow and he realised there was nowhere to take it.
"We thought it was appropriate to celebrate one 135 years of us helping animals to send everyone in Bristol on a hunt for a puppy named after him," said Gina Jones from BARC.
Volunteer dog walker Robin Hill said: "It's amazing the work that they [BARC] do, especially with some of the more disturbed and upset animals."
Tony Robinson plays Parker the dog and Giuseppe Dell Anno plays another character called Chameleon Diaz.
"It's a very funny character with a very strong accent - Italian," he said.
The baker said he had never dubbed a character before.
"It was a new experience, but I have to say I enjoyed it massively."
Comedian Mark Olver plays Phan-Tom - the ghost of a cat which he says is supposed to haunt St Mary Redcliffe Church.
"When you're given the opportunity to voice an animated ghost cat to raise money and awareness of this amazing place, I mean, you can't say no really, can you?," added Mr Olver.
The trail also features the voice of Bristol gig-goer Jeff 'Big Jeff' Johns, who was injured in a serious house fire and is still being treated in hospital.
The centre said it was grateful for his support and sent its love to him.
BARC has been caring for Bristol's pets and wildlife since 1887 and the staff hope the five-week trail and films will connect with the next generation of supporters.