Bristol artist needs volunteer army to help finish cape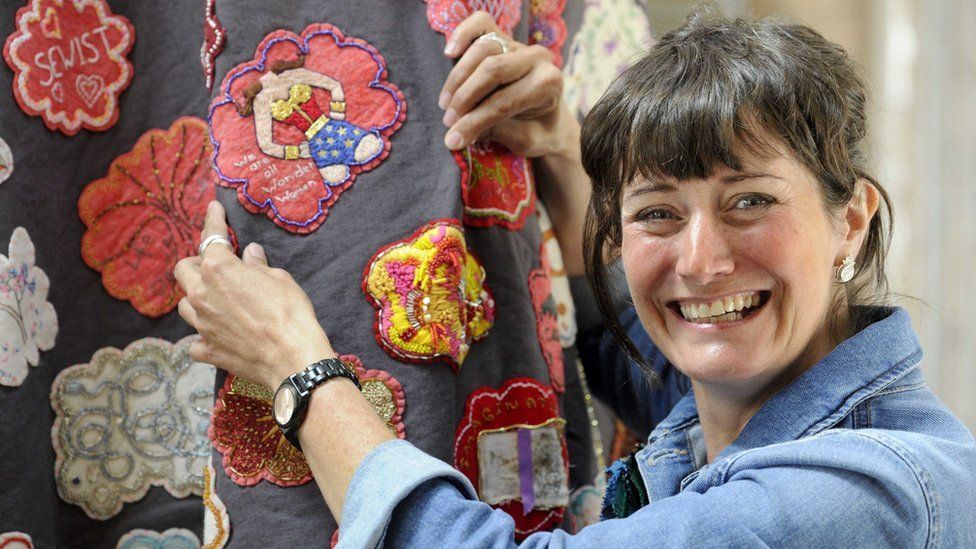 An artist is calling for volunteers to help stitch together a cape celebrating hope, courage and creativity.
Louise Gardiner has been commissioned to create the work by Marchmont House in the Scottish Borders.
When finished it will include 'flying acorn' patches sewn by people from the UK and overseas.
The artist, who lives in Bristol, hopes people will also send letters, write poetry or share photos that explain their stories of healing and courage.
The flying acorn is the symbol of Marchmont House, a 1750s mansion that is now a home for artists and makers, with Hugo Burge as its director.
"The cape is incredibly relevant to me now," Ms Gardiner said.
"Hugo commissioned me some time ago. Six months later I was diagnosed with cancer which rather put a halt to any progress.
"It was all looking incredibly bleak until I found an immunotherapy trial for women with clear cell ovarian cancer which has, so far, saved my life.
"It's shrunk the cancer all over my body. It [the treatment] lasts 18 months and there are six months to go."
As part of the project, Ms Gardiner is running classes to show people how to make the acorn patches and passing on some of her skills.
"It's a project about hope, courage, strength and all the qualities that we associate with the acorns and oak trees," she explained.
The cape is due to be completed for next spring and it is hoped it will go on tour along with the accompanying acorn exhibition.
Related Internet Links
The BBC is not responsible for the content of external sites.