Giant gorilla sculpture star of Bristol Zoo's celebrations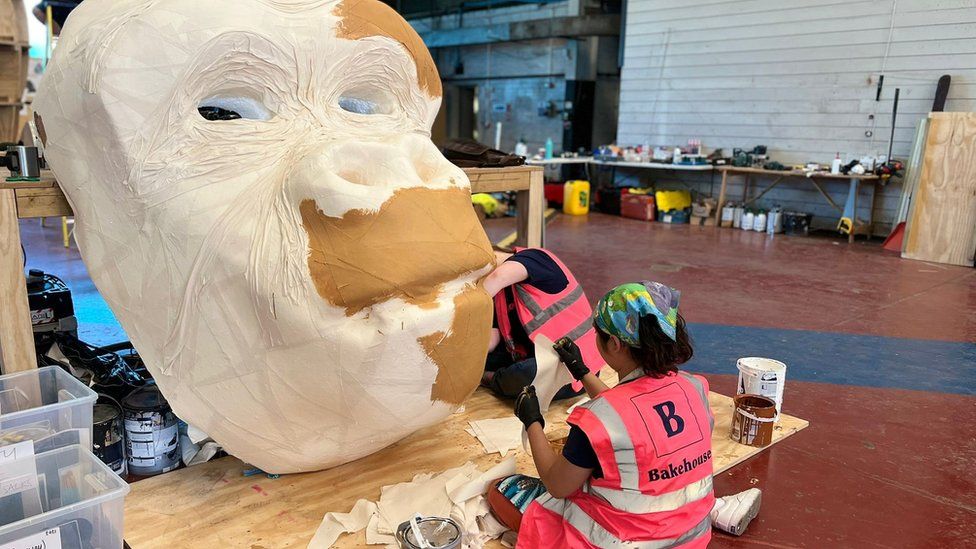 A giant gorilla sculpture will be part of the celebrations as a city zoo closes and moves to a new site.
Bristol Zoo Gardens in Clifton is planning what it calls its Big Summer Send-Off, following 186 years at its current home, with a specially-commissioned sculpture.
The gorilla, which is being made of wood, is described as standing taller than the largest giraffe ever recorded, and as wide as three king size beds.
The celebrations begin on 21 July.
Head of engagement, Simon Garrett, said: "We know the zoo and its animals have played an important role in the lives of many" so the team is "hugely excited" to share the event details.
Westonbirt Arboretum in Wiltshire donated 180 square metres of local yew, cedar, pine and oak weighing more than four tonnes for the project.
Bakehouse Factory, a Bristol theatrical events company, is behind the sculpture and is also managing the events programme.
Managing director Kate Statham said the team is "absolutely thrilled" to be working with Bristol Zoo.
"And what better way to do it than by creating something truly monumental," she added.
The team said female gorilla installation, known as 'Wilder', will surprise visitors with her movements through their visit.
Her 'baby's' name, Monty Alan, was inspired by the national park in Equatorial Guinea where the Bristol Zoological Society works to protect western lowland gorillas in the wild.
Ms Statham said everyone in the team is "playing a massive part" in making it a "summer to remember".
The programme includes a variety of events exploring animals with an interactive theatre experience using a blend of silent disco and storytelling adventure that people can buy tickets for.
The Big Summer Send-Off runs from 21 July to the Bristol Zoo Gardens' last day of opening to the public on 3 September.