Bristol Pakistani community call for donor for one-year-old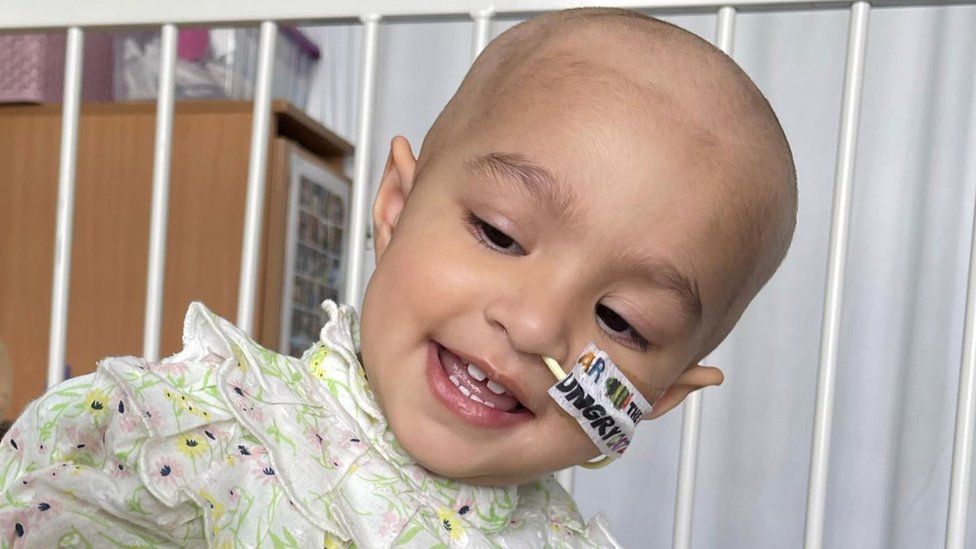 A Pakistani community is pulling together to help find a donor for a one-year-old cancer patient.
Bristol grandfather Mazhar Iqbal began the appeal after he found out his granddaughter Elaiya Hameed has acute myeloid leukaemia (AML).
The rare cancer can be cured by peripheral blood stem cell collection (PBSC), transfusion or bone marrow donation.
Mr Iqbal said he is looking for a donor who is of the same heritage as Elaiya.
According to the charity Blood Cancer, around 100 children and young adults under 19-years-old are diagnosed with AML in the UK every year.
On an Instagram campaign page her parents Summan and Muzahir Hameed wrote: "We've just been informed by doctors that Elaiya falls into the "high risk" group, this means the standard course of treatment (chemotherapy) isn't sufficient to help her fight this successfully.
"As of yesterday, we've begun the search for a bone marrow donor and we desperately need your help.
"Our daughter has the spirit of a fighter; Elaiya melts the hearts of all those who meet her."
Mr Iqbal said the diagnosis had left the whole family feeling devastated.
"It was just a hollow feeling, I couldn't understand it. She is the life of her family. We are all numb." he said.
Mr Iqbal launched the campaign to encourage more people from the BAME community to come forward to donate stem cells. It is focusing on the Pakistani community, where a match is most likely.
"We are offering to turn the world upside down to help my granddaughter. This is a matter of life and death and we are running out of time.
"We've been given a timescale of three to five weeks for this to happen," he added.
Dr Suhail Asghar, Clinical Directorate, NHS Blood and Transplant, said fewer people from BAME communities register to donate stem cells in the UK.
"We do not have awareness in the BAME community about how important it is to become a bone marrow donor, so it is not being promoted, until the issue is faced," he said.
"The chances of success in children of having a normal life after a bone marrow transplant is between 80 to 90%," he added.
Related Internet Links
The BBC is not responsible for the content of external sites.