Bristol cyclist finishes mammoth 30,000km challenge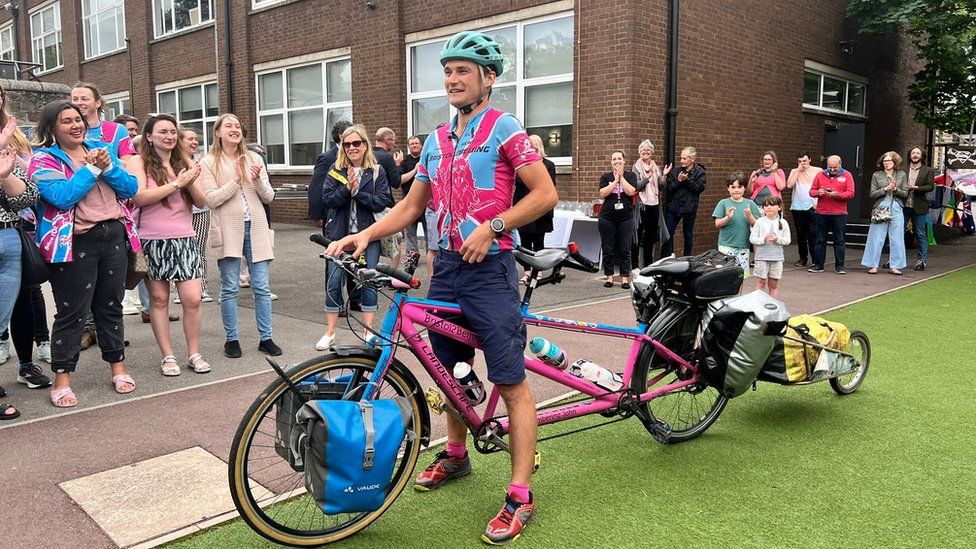 A cyclist who was diagnosed with a terminal form of cancer has finished a mammoth 30,000km (18,641m) challenge.
Luke Grenfell-Shaw, from Bristol, decided to start his journey after being diagnosed with stage four cancer in 2018 at aged 24-years-old.
With his cancer in remission, he was cycling to Beijing, but the pandemic meant he had to finish the last 1,864m (3,000km) in the UK.
Through his cycling challenge he has raised more than £120,000 for charity.
Mr Grenfell-Shaw, and his pink-and-blue tandem bicycle named "Chris", were welcomed back in Bristol to floods of cheers from friends and family, completing his journey where he began in January 2019.
He started the last stretch of the mammoth bike ride - Bristol2Beijing - from the Royal Crescent in Bath, finishing at, Bristol Grammar School, which he previously attended.
He said his mum had been "the most incredible support".
"She's seen me at my absolute lowest, in bed on chemo, no hair. To be able to share this with her, it's difficult to really say what that means.
Coming home, he said his story is not just about him. As he started cancer treatment, he also lost his brother, John, in a climbing accident.
"There's a little bit of me that says I want to live a bit more for him as well," said the cyclist.
With such a serious diagnosis and a huge loss, Mr Grenfall-Shaw said he focussed on the challenge.
Reaching China's border, he was forced to return to London to cycle the remaining 2,060m (3,300 km) on a stationary turbo in prominent locations around central London.
But, despite cycling during a global pandemic, he had already managed to travel through 29 countries.
He traversed virtually every kind of landscape and weather, braving -15°C (5°F) and +50°C (122°F), mountain passes and treacherous roads and was joined by various people hopping on the back seat of the tandem bike for different legs of the adventure.
He said he hopes his journey will inspire others and show that people can live with cancer, and do so richly and fully.
"I didn't think I had long to live, and I thought if I could only do one more thing in my life, I want to cycle across the world and I want to show what is possible with cancer and I want to try and give people hope who have been in my situation.
"I still don't know how long I have, so that's a powerful reminder just to not hang around and do what's important right now," added Mr Grenfall-Shaw.
Funds raised will support the four expedition partner charities - 5kYour Way, Young Lives vs. Cancer, Trekstock, and Teenage Cancer Trust.