Bristol NHS Trust finds 200 patients harmed by mesh bowel surgery
By Matthew Hill
BBC West health correspondent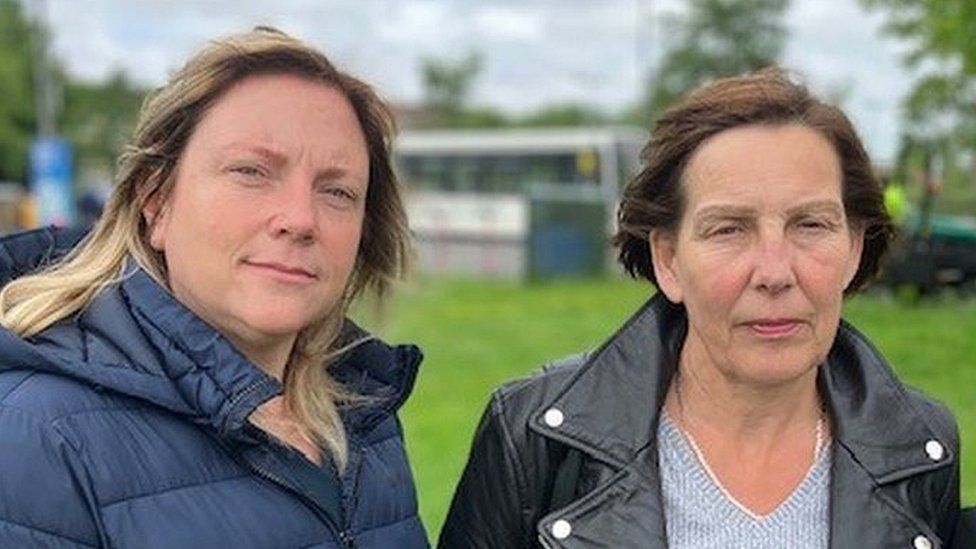 More than 200 patients underwent mesh bowel operations in Bristol they might not have needed, a review has found.
Most of the surgery intended to fix prolapsed bowels was carried out by Tony Dixon, who was dismissed in 2019..
He told Tracey Hanman she needed the surgery quickly. It transpired "I didn't need the surgery at all" as it was probably an infection, she said.
North Bristol NHS Trust said it was "extremely sorry" for harm caused to patients as a result of the procedure.
Surgeon Tony Dixon pioneered the use of artificial mesh to lift prolapsed bowels - a technique known as laparoscopic ventral mesh rectopexy (LVMR) - often caused by childbirth.
Ms Hanman, 47, from Melksham, Wiltshire continued: "It's horrendous really. You can't put it into words.
"Every day you battle with the fact someone has done that to you and they didn't need to."
Annette Whiting, 62, from Sea Mills in Bristol, said: "I felt violated. Beyond angry, beyond upset.
"It affects your everyday life.
"Your body aches, you have to run to the toilet, you've got no control over it whatsoever."
The women - who have since been contacted by the trust to confirm they should have been offered less invasive procedures - said they were still suffering excruciating pain following their operations.
Mr Dixon has declined to comment on the outcome of the review but has previously maintained the operations were carried out in good faith and that any surgery carried risk of further complications.
The review looked at the 10 years running up to 2017, when BBC Points West first broke the story that Mr Dixon would be investigated after leaving women in severe pain.
It considered 218 patients in detail who underwent LVMR surgery at Southmead Hospital, of which it concluded 110 came to harm.
It also looked at 169 NHS patients operated on by Mr Dixon at the private Spire Hospital, in Redland, of which it found 93 came to harm.
Mesh implants are medical devices used by surgeons to treat pelvic organ prolapse and incontinence in women, conditions that can commonly occur after childbirth.
The mesh, usually made from synthetic polypropylene, is intended to repair damaged or weakened tissue.
Concerns about Mr Dixon were reported by a consultant to the trust in 2013, but Mr Dixon was allowed to continue working.
He was eventually reported to the General Medical Council in 2015. The trust suspended him two years later in 2017 following the BBC expose.
Asked why the trust did not respond to the concerns in 2013, North Bristol Trust Medical Director Dr Tim Whittlestone said: "They were looked into, and considered, but it was the patient concerns and the themes of the patient concerns that alerted us to a possible problem with the case selection of patients undergoing mesh rectopexy."
As a result of the review, the trust has written to each patient with the individual outcome of the review of their care.
It said it had notified the 203 NHS patients that while their operation was carried out satisfactorily, they should have been offered alternative treatments before proceeding to surgery, and it has therefore "defined these patients as suffering 'harm' as a result".
The review stated "harm is defined as undergoing an operation that may not have been required, where other less invasive options could have been offered first".
Dr Whittlestone, said: "We are aware a number of patients have had significant complications and we are extremely sorry these complications happened.
"For a small number of patients who have suffered significant and devastating complications we've deemed that nevertheless the surgery was a valid option for them to consider.
"Our main concern and consideration is a number of these patients were not offered less invasive or more conservative options prior to surgery and for that we are extremely sorry."
The trust concluded its review by stating it had learned "valuable" lessons.
In addition to LVMR surgery, the trust also considered whether there were other pelvic floor procedures that required investigation, but it said it "remains satisfied at this time other investigations are not required".
A separate clinical review of about 300 private patients at the Spire has yet to be published.
Related Internet Links
The BBC is not responsible for the content of external sites.