ChatHealth text service launched to help young people 'open up'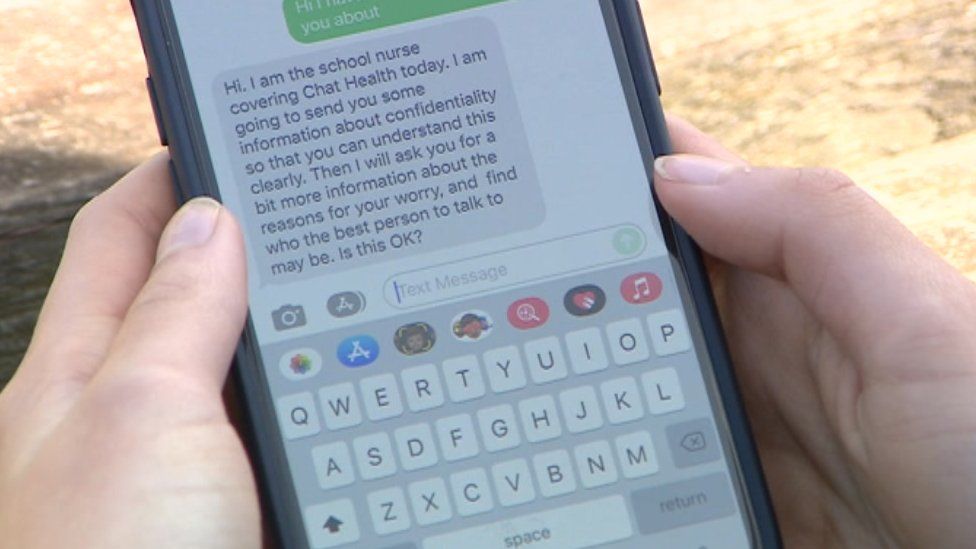 A text messaging system designed for 11 to 19-year-olds who want help with health issues has been launched.
ChatHealth is run by Sirona Care and will be available to students across Bristol, North Somerset and South Gloucestershire.
It is hoped that young people will feel more confident to flag personal issues via text, rather than face-to-face.
The deputy designated safeguarding lead at Clevedon School said they are "delighted" about the service.
Jess Underwood added: "We think it's a brilliant service."
The confidential service is being delivered by school nurses who are trained for ChatHealth and can offer advice or pass the students on to other services who may be able to help them further.
It can offer advice on a range of issues, including exam stress, self esteem issues, and any other problems young people may encounter.
Students at Clevedon School agreed it would help them to ask for help.
Amy said: "A lot of people struggle opening up in person because they feel less confident, whereas if they can message on a phone, they might feel a bit more confident.
"They can do it in their own time, in their own space and talk to someone they don't necessarily know but can trust."
Will said: "It's good that we can just talk to someone out there, who we don't know, but we can trust, and tell them how we feel mentally."
India said: "It's good if you can't open your feelings in person, and if it's hard for you to do that, you can just send a message and they will respond quickly."
While Santina added: "It's really amazing because it's not just about saying how your feelings are."
The service will be open Monday to Friday from 09:00 to 17:00 during term time and school holidays, excluding bank holidays.
Katy Green, school health nursing lead for Sirona Care and Health, said: "ChatHealth will enable us to expand our service, with the same amount of staff, and support more young people in a safe way which is more convenient for them."
Related Internet Links
The BBC is not responsible for the content of external sites.