Health-conscious Bristol cafe-goers shun the greasy spoon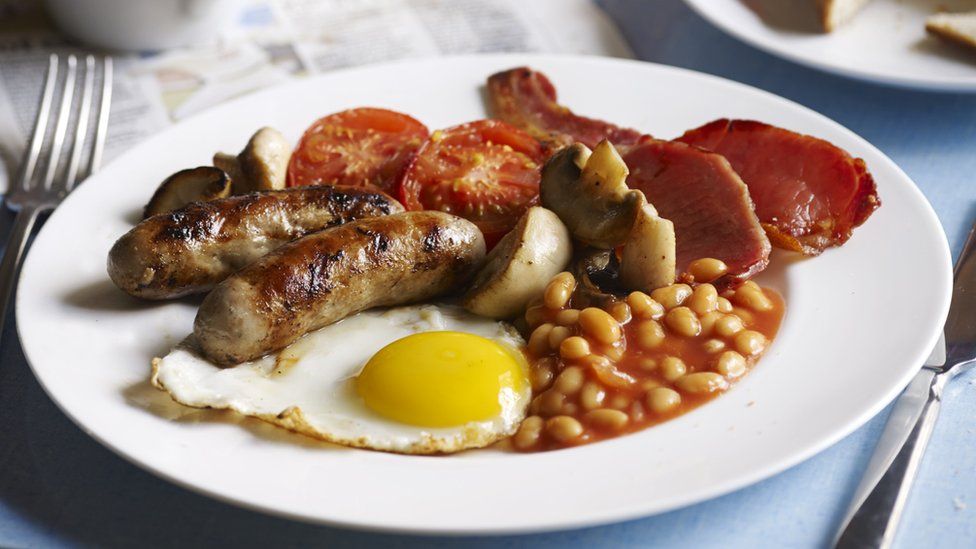 A "greasy spoon" owner has shut his cafe, claiming that health-conscious people have fallen out of love with fry-ups.
Suat "Sam" Tezgel has closed Bonnies cafe in Bristol, saying the pandemic was the "final nail" in its coffin.
He said: "People kept asking for organic halloumi salads - something had to change."
Cafe owners in St George say "gentrification" and changing tastes are to blame.
Mr Tezgel, 49, has since opened a Mediterranean restaurant in its place.
He added: "When I came to the UK in 1996 I'd never heard of gluten-free or vegan food.
"It was all about fried food. I am a chef and wanted to make a living so this is what I did."
He moved to Bristol to take over Bonnies in St George in 2014 and assumed that cooking a staple of English breakfasts, pie and chips, along with bubble and squeak would be a sure-fire winner.
But lately he found himself struggling to stay afloat.
Outside of his aging loyal client base, Mr Tezgel thinks St George is "changing" and the new influx of residents have little interest in carb-filled high-calorie traditional English food.
He said: "In the last two years especially - the area is changing.
"I noticed different types of customers coming in. They were asking for more healthy foods like fresh fish and halloumi.
"I make myself a traditional Turkish breakfast every morning and people would smell it and ask if that was on the menu."
Barman Josh Cosken, 29, also said that with the increasing gentrification of St George and Redfield - many remote workers wanted somewhere to perform their jobs from during the day.
This increasing number of white collar workers are replacing tradesmen who used to be the business' main clientele.
"The area has changed and it would be silly to not move with the times," he said.
"We were very quiet in the pandemic. We were on Uber Eats but people were not really ordering fry-ups.
"They don't transport well and I think most customers picked healthier options."
Angie Hodgkinson-Day said that when she opened The Faraway Tree in 2014, St George had very few places which offered healthier foods.
She said that people told her the business would fail "unless she sold rubbish food" and charged less than £8 for a cooked breakfast.
"But I stuck to my guns," she added.
"Now everyone wants plant-based milks or vegan options.
"The whole demographic of this area has changed. You had people who just wanted cheap food on a plate.
"Now people want more options and they do expect more. Our most popular order is a vegan breakfast and I would say that 50% of our clients are vegan.
"St George is definitely growing in popularity. You only have to look at the house prices. It's a very desirable area and it's becoming much more of a cultural hub."
While there may have been a shift away from fried food in certain areas, demand appears to remain strong in others.
Cheryl Metcalfe has run TJ's Cafe in Gloucester for nearly 20 years and says fried breakfasts are still her "biggest sellers".
"Our cafe is quite known for its breakfasts so it's still going strong here," she said,
"We do do health if they want it. We've got a cabinet with cold fillings and our food is grilled not fried.
"But I think people eat what they want. You get the odd one or two who come in and want a salad with a cheese roll but the majority want fried food.
"I think people are always going to want bacon butties. I don't think we'll ever be rid of the fried food."
Mr Tezgel's claims were also disputed by Paul Sidwick - who has run the Top Nosh cafe in Kingswood for the past 19 years.
He said that "100% the demand" is still there for breakfasts, just perhaps with a healthier twist.
Mr Sidwick - who runs the cafe with his husband Jay - said he has seen a rise in people asking for healthy food - especially in January and February when "hundreds of people" order poached eggs on toast.
"We do a good trade on breakfasts," he said.
Jay Sidwick was equally upbeat: "We can't be any busier if I'm honest - but then we aren't as greasy as some places.
"We feel we are higher than a greasy spoon.
"Our main food that we sell is breakfasts and we do healthy options - jacket potatoes, paninis and salads.
"We are for all that but the majority of our customers want (cooked) breakfasts."