John Challis: 'Unbelievable' that Only Fools legacy lives on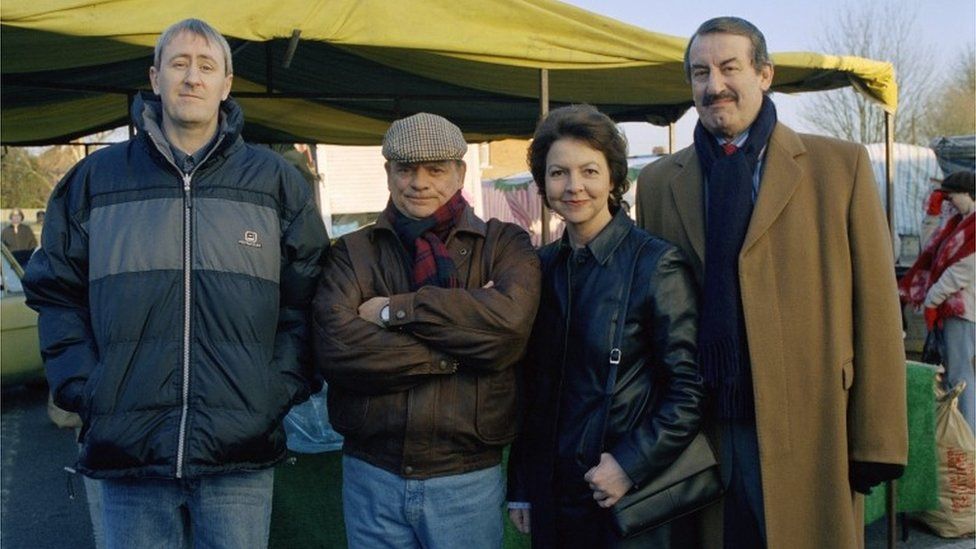 A firm favourite with comedy fans, John Challis was best known for playing unscrupulous second-hand car dealer Boycie in Only Fools and Horses.
Ahead of the BBC sitcom's 40th anniversary, the actor, who died on Sunday aged 79, spoke about its "unbelievable" legacy and told how it was "amazing" the show was still popular now.
Here he recalls some of his favourite episodes and highlights.
Created by John Sullivan, Only Fools and Horses first aired on 8 September 1981.
Sixty-four episodes, filmed primarily in Bristol and West London, were broadcast over seven series until December 2003.
Challis was born in Bristol before moving to London as a young child due to his father's work.
"[I was born] under the [Clifton] suspension bridge according to my father. He was well-known for his sense of humour.
"I started in the first series in 1981 and it seems unbelievable that 40 years later we're still doing it, still talking about it and [it] is as popular," Challis said.
Several mini-series and Christmas specials followed, along with spin-offs, a musical and a board game.
Of the 64 episodes, the Jolly Boys' Outing remained his favourite, which was "like a jolly down to the seaside", said Challis, who went to film The Green Green Grass based on Boycie's character.
On the trip to film the episode, he said: "I got breathalysed down there, but I was ok."
After returning for a second time, he said: "I got the distinct impression that they [the police] had me taken back to have my second breathalyzer on purpose knowing perfectly well I wasn't over the limit.
"And then I had to pose for selfies of course."
In 2020, Challis released the Boycie in Belgrade documentary to uncover why the show is hugely popular in Serbia - so much so they made him the Freeman of Belgrade.
"Can't wait to find out what I can do, now [that] I'm a citizen of Serbia", he added.
His family said he died "peacefully in his sleep, after a long battle with cancer".