Heatwave: Eco-friendly ways to stay cool
By Jasmine Ketibuah-Foley
Broadcast Journalist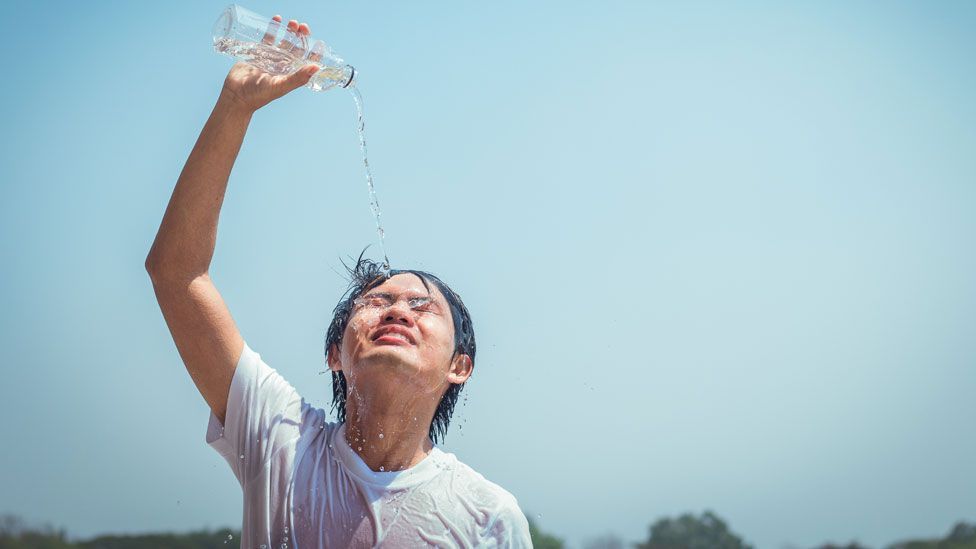 This heatwave has had many longing for the air conditioning of their workplace as they swelter it out at home.
All four UK nations recorded the hottest day of the year over the weekend, and forecasters have warned temperatures will continue to climb and could reach 33C (91.4F) in some western parts of the country on Wednesday.
We asked several workers in the environmental sector how to keep cool while still being eco-friendly.
'Wear more natural fibres'
Climate activist Tolmeia Gregory, 21, left the world of fast fashion to advocate for greener practices within the industry and to highlight environmental issues.
She lives and works in her flat in Cheltenham, which feels like a "greenhouse" in the heat.
"A lot of new clothes in fast fashion are made from synthetics and polyester is one of the most popular ones and they are just not breathable at all because you are literally wearing plastic, so I would advise people to wear more natural fibres and cotton," she said.
"Walking through town it really highlights the lack of shaded spaces we have.
"From a climate activist perspective, an eco-friendly thing we could do would be to take action and push our local councils to create more shaded spaces in the hot weather because [this weather] is going to become more normal."
Bristol Steppin Sistas walking group organiser Sophie Brown, 54, said anyone who chooses to walk in the heat will need a hat and loose clothing but must make sure they are well prepared.
"Put a bottle of water in a freezer overnight and take that with you on your walk," she said.
"Get well prepared with loose clothing, sunglasses and a sun hat and walk by a river because it's much cooler and make sure you go for a shorter walk - don't go for a really long one and get caught out.
"Take a break every 10 minutes and find some shade under a tree."
Olivia Sweeney, 27, is a sustainable waste consultant at Bristol Resource Futures and said you have to be careful when thinking about ventilation.
"Having an open window isn't necessarily a good thing in the daytime. Sometimes you want to keep in the cool air and it's probably cooler inside than it is outside at the moment," she said.
"A wet flannel on the head or back of the neck is a good one as well.
"I'm into the environment so as great as it is having hot weather like this is you have to also think about what's happening to the planet."
'A pillowcase in the freezer'
Bristol Cabot Institute researcher Vikki Thompson has been studying the effect of heatwaves on people's health and said we need to watch out for those who are elderly and vulnerable.
"In the UK heatwaves are getting longer and hotter," she said.
"Every year we have broken records and that's just going to continue to happen."
According to her research, by the end of the century, climate projections suggest the UK could experience highs of 40 degrees every four years.
"You can keep your windows closed and put a pillowcase in the freezer or fridge and also spend some time near open water because it will be cooler near those areas," she added.
The Met Office has issued two new-style extreme heat weather warnings and alongside the government is urging people to watch out for sunburn and heat exhaustion.
One of the amber warnings covers parts of Wales, all of south-west England and parts of southern and central England.
It will be in place until Thursday, when temperatures are expected to peak.
Related Internet Links
The BBC is not responsible for the content of external sites.