Bristol activists to plant millions of trees with investment
By Steve Mellen
BBC News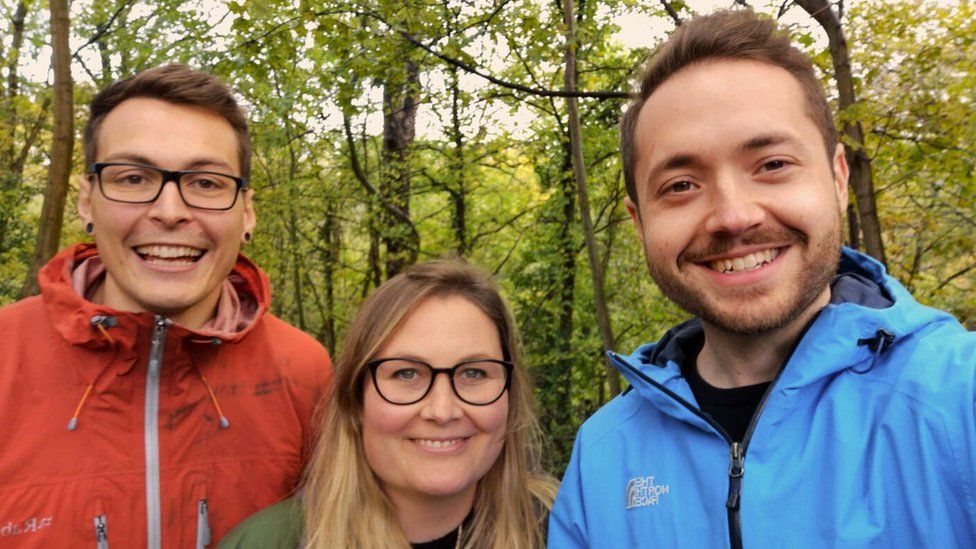 A group of climate activists say a £4m investment will help them plant millions of trees around the world.
Bristol-based Ecologi, which uses subscriptions to pay for environmental projects, got the money from investment group General Catalyst.
Elliott Coad, one of Ecologi's founders, said his ultimate dream was to plant "a million trees an hour".
General Catalyst was one of the first companies to back Snapchat, Airbnb and Deliveroo.
The team behind Ecologi - husband and wife Elliott Coad and Lucy Jack and their friend Alex Price - describe the business as a "subscription service for the planet".
Founded in 2019, it is backed by nearly 16,000 members of the public and more than 6,000 businesses.
'We don't have much time'
Mr Coad said Ecologi began when he and his wife were looking at their own carbon footprints back in 2019.
"At the time I was commuting to London and buying fancy coffees and I started to wonder what good the equivalent of one coffee could do if I spent that money on climate action instead," he said.
"When I looked into it I was blown away that I could offset my entire carbon footprint for about £5 a month, plus plant about 140 trees a year.
"That idea just got stuck in my head."
Ecologi began as a non-profit but Mr Coad said the founders soon realised they could do more as a business.
"When you are dealing with climate change, the one thing you don't have is time," he said.
"Non-profits and charities have a history of growing slower than say things like Spotify or TikTok, which feel like they just appear out of thin air.
"So Ecologi is built to make a profit but we try and align ourselves with the ethos of a charity."
'We can't rely on politicians'
The platform works by letting people around the world calculate their carbon footprint based on where they live and their lifestyle.
Investments are then used to plant trees, particularly mangroves, as they capture much more carbon than other species, and fund renewal energy projects.
Subscribers have access to Ecologi's finances and supply chains via their website, and can also see where their trees have been planted thanks to satellite footage and photos.
Mr Coad said the General Catalyst investment was "a dream come true" for the team, who had been "penny-pinching" in the early days.
"The investment means we can now bring the brightest and best from around the world to work with us," he said.
"Just one year ago our community had planted a million-and-a-half trees. Now it's a million every 10 days and we would one day like to plant a million a day, maybe a million an hour."
He said tree planting was still "the best option" in terms of taking carbon out of the atmosphere.
"Nature is amazing. If we give it a little help, it will carry on doing the rest of our behalf," said Mr Coad.
"I joke that I hope one day we go out of business because governments have caught up with what needs doing, but there is a feeling that politics will never rise to the occasion and there is a need for groups like ours to take action.
"We should never leave it to the politicians or big companies to do it, because it's just not going to happen, and every day matters."
Related Internet Links
The BBC is not responsible for the content of external sites.