Bristol filmmaker's LA experience inspires trauma film
By Thamayanthi McAllister
BBC News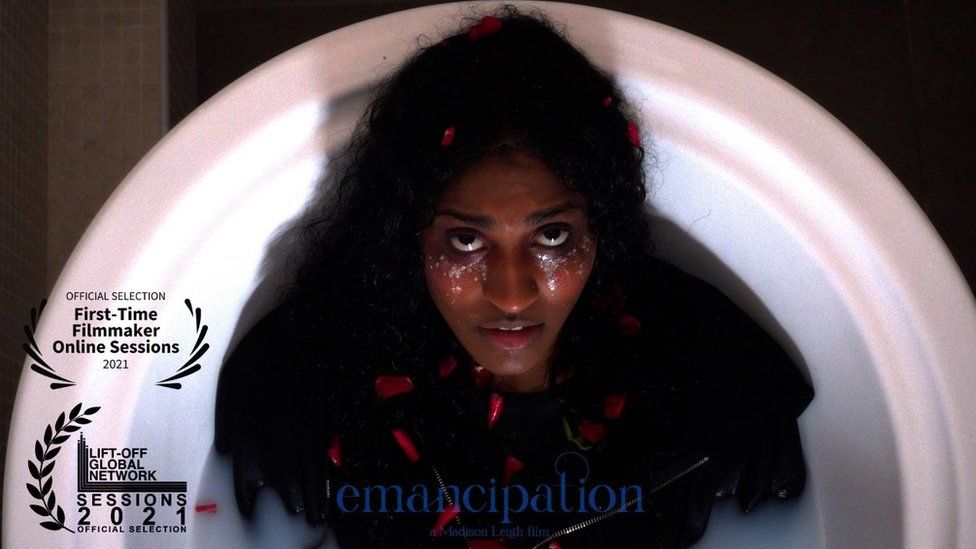 An aspiring filmmaker's survival of trauma has motivated her to produce and write a film about the issue as a way to help others.
Madison Leigh's film Emancipation portrays the emotions of a young woman as she overcomes the same experience.
She said the impact of the MeToo movement gave her confidence to "turn the pain" from her difficult time living in Los Angeles "into art".
The film is set to be showcased at two influential film festivals.
Ms Leigh, who is 21 and from Bristol, said she did not want to go into the details of her own experience, but hoped the film could help other victims of abuse.
She worked in LA prior to the pandemic, after giving up a promising career in customer services in London to pursue a long-held dream of film production.
The story is told through the eyes of the main character Kayleigh, played by actress Eden Jodie.
Ms Leigh said: "I was inspired by events in my own life that left me in a dark place, most of which happened when I was out in Los Angeles in the film industry.
"I wrote this monologue as it was kind of like my diary extract so I kept going back to it and after several months I realised I was creating a poem, in a way.
"It was then that I discovered that I could turn my pain into art and perhaps this could help other people."
As well as creating the film, she said the experience had spurred her on to be more outspoken about ongoing issues with abuse in the film industry.
"There needs to be more protocols put in place where men are held accountable for their actions, and not just men as well, but women too. Women can be abusers too," she said.
"There shouldn't be a safe space for women to come forward, there should be just a safe place for women to work."
Emancipation will be shown at the Lift Off Festival based in the UK and LA.
It was shot in April around Portishead and at Screenology in Bristol, on a shoe-string budget.
"All of the shots and the transitions in film are symbolic," Ms Leigh said.
"When we see her falling into the water, that reflects the weight of life and the overwhelming feeling of when you can't breathe.
"The fireworks scene is meant to resemble that explosion that sometimes you feel in your stomach - you feel like you have a sudden rush when you come out of a dark or depressive episode.
"You have a sudden rush to make something of yourself - it's meant to reflect that," she said.
Her production company, co-founded with another Bristol filmmaker, Ewan French, was set up in December.
Like other young, female filmmakers, inclusivity was essential to Ms Leigh.
"I'm a white woman and obviously I recognise the privilege that I have as a white woman and especially within the film industry.
"Not only is it male dominated but when it comes to women, there's a lot of white feminism in the film industry.
"I want to be a reflection of all people. I want to give a platform using the platform that I have to all kinds of people whether it's race, gender or sexual orientation.
"I have a duty as a young white person to do that."
Related Internet Links
The BBC is not responsible for the content of external sites.