Stolen dog from Bristol found in Coventry recycling yard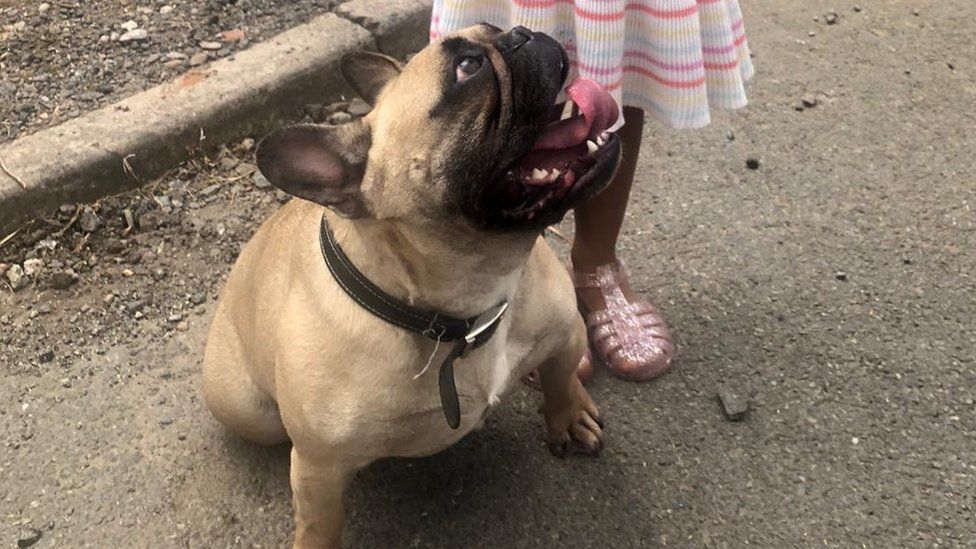 A French bulldog stolen from a van in Bristol has been reunited with her owners after turning up at a recycling centre 79 miles (127km) away.
Coco went missing in Fishponds, Bristol, on 27 May, while her owner's van was parked in the street,
Thanks to the power of social media she was recognised by workers at the yard in Coventry on 14 June.
Nathan Edwards, 43, her owner, said, it was a "glorious moment", when they saw each other again for the first time.
"When she realised it was me and my daughters she went crazy, she was jumping up all over the place, on her back, she was very excited. It was a glorious moment," he said.
Coco's disappearance from Mr Edwards' van had left the family "distraught".
"We were trawling the streets, driving late at night, flyering the place and bought billboards, there was no sight of her whatsoever," Mr Edwards said.
"We were distraught, devastated didn't know what to do, lost."
The family shared Coco's photo on social media, creating an online campaign to find their missing pet.
As hope was all but gone, Mr Edwards received a call from a recycling centre. Workers had found Coco wandering around the yard and recognised her from a social media post.
"They called me on Facetime and I could see the dog and I called her and I could instantly see it was my dog and it got me a little bit choked to be honest," he said.
"I instantly jumped up, got into the van and flew straight down the motorway."
When he arrived he found Coco with a shaved stomach, bruised leg, and very worn down claws but she was otherwise well.
"It makes me a bit choked thinking about it... I don't even want to think about what she's been through to be honest, she is a little bit dishevelled but she seems fine," he said.