Bristol-based Pirate rehearsal studios hope for expansion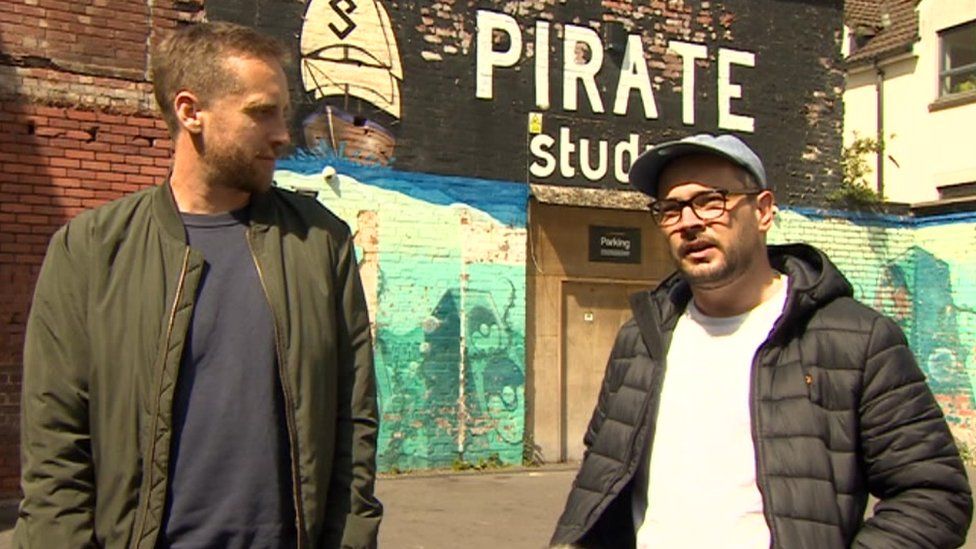 Two former musicians who pioneered the UK's first 24 hour, self-service rehearsal studios say the concept has been so successful they hope to have 10,000 studios open by 2024.
Mikey Hammerton and David Borrie launched Pirate in Bristol in 2015.
They now have 700 studios, used by musicians, DJs, podcasters and dancers across the UK, Germany and the US.
One female DJ said the studios were a "less intimidating" place for young women to record.
Mr Borrie said: "We saw that actually there was some interest in people using studios, past the usual 23:00 shut off.
"We wanted to explore it a bit more and there were companies like PureGym and self-storage companies that were doing something interesting in the space, so we thought we'd use the same idea and just apply it to music studios."
Mr Hammerton added: "I think it is the availability really [that has driven its success], the opportunity and the community it creates as well...that's where people really get the buzz from."
Pirate, which started in the St George area of Bristol, offers professional rehearsal equipment and the space to create, charging people hourly rates.
But Mr Borrie and Mr Hammerton say their passion lies in the music, not the profits, and they just want to make access to studio time easier for busy artists.
"We have a mum who comes in with her child prior to the school run," Mr Borrie said.
"I think she comes in 07:00 until 08:00, brings her child with her, who entertains them self in the DJ studio, while she has a DJ.
"Then from the studio she goes straight and does the school run."
Jack Hamilton, part of Bristol-based band Masca, who use the studios, said: "The bigger music that everyone consumes in day-to-day life, whether that's buying a ticket to Glastonbury or something, none of that can happen if people don't have a place to start."
New York-based DJ, Jess Gentile, who also goes by the stage name Jubilee, added: "All of the younger artists that I speak to, that I encourage to go into Pirate, a lot of them also are young women that don't want to go to a regular studio and have an engineer breathing down their neck and they are intimidated by the idea of that."
The duo now plan to expand their business in America, but say Bristol will always be their home.
"I've got such a tie to so many of the artists in Bristol," Mr Hammerton said.
"They've really drove me forward to want to be part of the music industry."
Mr Borrie added: "We've put a lot of trust in the musicians using the studios and in return they've treated it with massive respect and as such our roots will always lie in Bristol."
Related Internet Links
The BBC is not responsible for the content of external sites.