Bristol's festival season may not fully return in 2021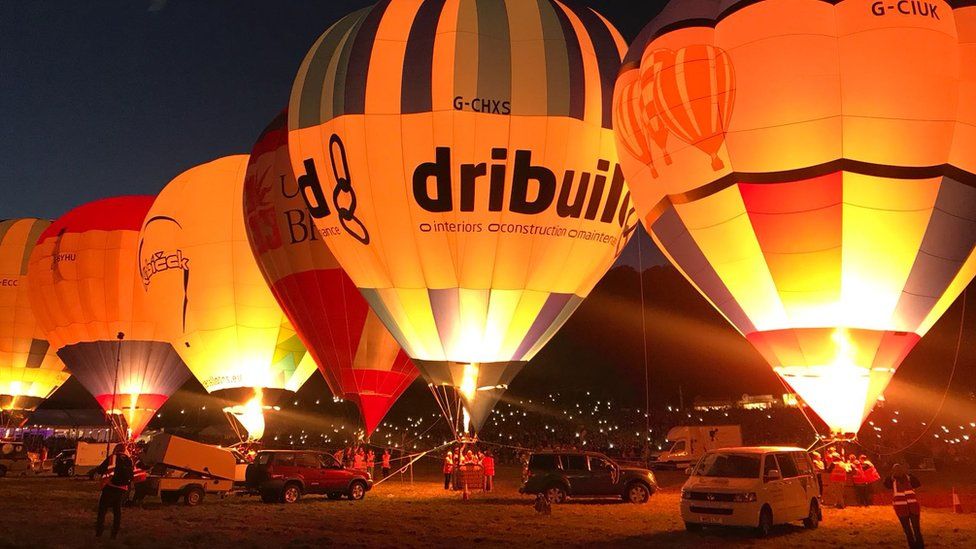 People in a city famous for its festivals have been warned not to expect a big summer despite government plans to ease lockdown.
Monday's announcement that restrictions could end by the end of June offered hope to Bristol's events sector.
It is worth an estimated £50m to the city's economy, with 1.2 million people attending events in 2019.
But Liz Harkman, head of Bristol Festivals, said there were still "huge pressures" on event organisers.
Events like the 2021 Glastonbury Festival have already been called off but organiser's of Bristol's biggest events such as Upfest - Europe's largest street art event - The Bristol Harbour Festival and the Balloon Fiesta, have still not made a final decision on whether to go ahead this year.
Bristol Festivals represents a network of more than 60 events held in the city, from community events for a few hundred people to the balloon fiesta, which attracts half a million people to Ashton Court in August.
Ms Harkman said Monday's roadmap announcement had provided some clarity, but it might not be until the autumn that the sector fully returned.
"At least now anyone who was going to hold a large-scale outdoor event before 17 May knows it won't be happening," she said.
"But I think it's not a case of 'the summer is back' - because it isn't that simple."
Ms Harkman said it took months to plan events, and the milestones in the plan to ease lockdown made it almost "impossible" for organisers to take the risk on events in June and July unless an insurance scheme was introduced.
"If you look at what Boris Johnson said, each of the key dates will be announced with a week's notice and there's no way a festival can be organised in that timeframe," she said.
"You also have to bear in mind that the local authority needs to grant site permissions for major events, and they are under enormous pressure with other elements of the Covid recovery, like planning how to reopen the city centre.
"You still cannot buy Covid insurance for festivals, so anyone that decides to go ahead this summer is taking an enormous risk.
"If we go into another lockdown or they can't hold their festival because of a rise in cases, there is no safety net."
Ms Harkman said there was also a "moral responsibility" on festival organisers.
"Bristol prides itself on being a festival city, due to the sheer number of events that happen here and the numbers of people attending them," she said.
"But I think there is also a moral responsibility when we think about holding events again, because many of our communities have been hit hard by bereavement and high infection rates.
"We have to be sensitive and aware that not everyone will feel like celebrating."
She added festivals had not completely vanished from Bristol during lockdown, many taking their events online, and that the city's "spirit of innovation" made her optimistic about the future.
"We may see the smaller, more community-focused events return first," said Ms Harkman.
The 2021 Bristol Jazz and Blues Festival, due to be held in March, has already become a casualty of the pandemic,
A decision is yet to be taken about the Weston Air Festival, due to take place on the seafront at Weston-super-Mare in June, and the St Paul's Carnival, Bristol's annual celebration of Afro-Caribbean culture.
This week Crosstown Concerts, which organises the 5,000-capacity Bristol Sounds series in the city centre in June, announced it would be cancelling this year's events and planning for 2022.
Crosstown founder Conal Dodds said that June was "too soon" to hold an event on that scale.
"Although this is very disappointing for our team, our ticket holders and the whole supply chain which the event supports, we don't want to compromise the gig-going experience," he said.
This summer's concerts, featuring Paul Heaton and Jacqui Abbott, Supergrass and The Levellers, had already been postponed from 2020.
Outdoor event The Bristol Craft Beer Festival was one of only a handful which managed to go ahead in 2020, with reduced capacity and extra safety measures.
Founder Greg Wells said they still planned to hold this summer's event - in June - and were allowing people to book tickets for £1 now, and pay the rest if it went ahead.
"We're definitely in a weird position right now," he said. "But we're excited and encouraged by the news yesterday [Boris Johnson's lockdown roadmap].
"Having staged a safe event last year we know we can do it. Being honest, we feel it would be safer than most schools or places of work - the places which the data shows have been the real vectors of transmission."
Related Internet Links
The BBC is not responsible for the content of external sites.