Gandhi's broken pocket watch sells for £12k at auction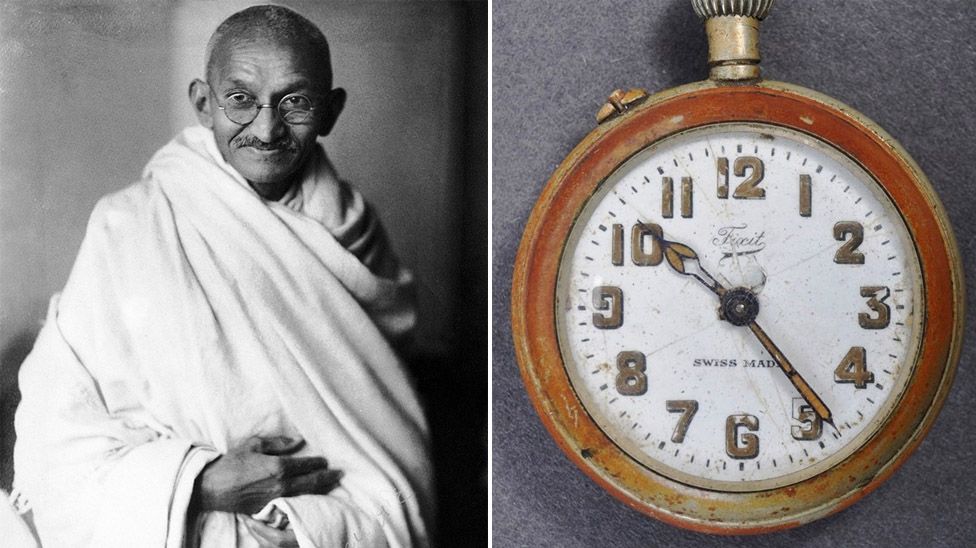 A "worn and broken" pocket watch once owned by Mahatma Gandhi has sold at auction for £12,000.
The silver plated Swiss watch was given to the owner's grandfather by Gandhi in 1944 "as a thank-you for his devotion".
Estimated to fetch up to £10,000, it beat that price at East Bristol Auctions on Friday.
Auctioneer Andrew Stowe said the buyer was a private collector based in the United States.
The sale follows the auction of a pair of glasses, believed to have been worn by Gandhi, which sold for £260,000 in August.
Mr Stowe said it had been a "whirlwind few months" and the watch sale was "another wonderful result".
"After our incredible sale of Gandhi's Glasses back in August, we were inundated with requests for items relating to him," he said.
"Many of those items were coins, photographs or pictures, but then this one came through and we just thought 'wow'."
The watch was once the property of Mohanlal Sharma, a carpenter and follower of Gandhi.
In 1936, he travelled to meet the civil rights leader and volunteer his services.
As a thank-you for his devotion, Gandhi gave him the pocket watch in 1944, and it was passed to his grandson in 1975.
"It's an incredible piece of history and the fact it is so worn and broken adds to its charm," said Mr Stowe.
"To think this was used by Gandhi for many years, and then passed over to a trusted friend who then also treasured it, is just wonderful."
Related Internet Links
The BBC is not responsible for the content of external sites.