Bristol Somali women's course is 'jewel in the crown'
By Caroline Le Marechal
BBC News, Bristol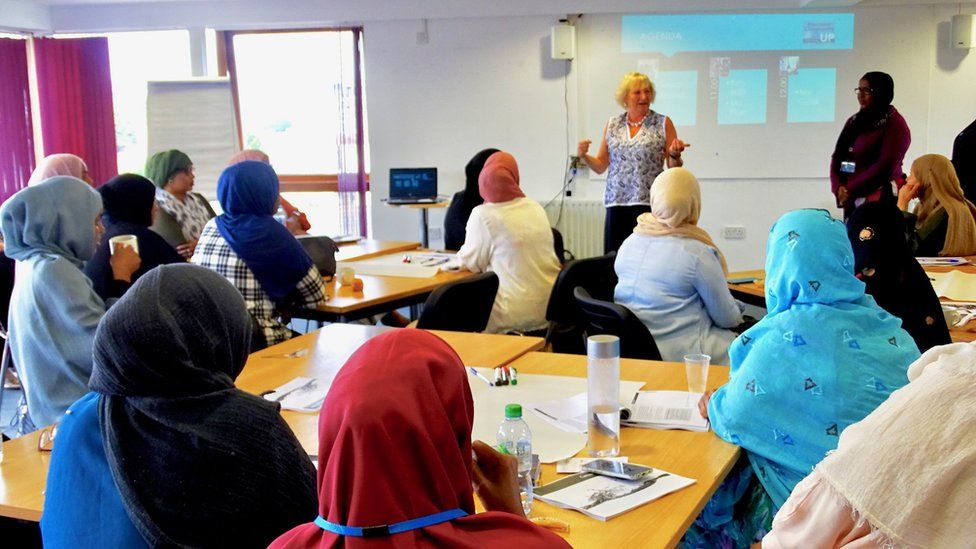 A leadership programme designed by and for Somali women in Bristol has proved such a success it is now running its second course.
Horumar, which means "going forward", was set up after a council BAME course failed to attract people from one of the city's largest ethnic groups.
Founder Zahra Kosar said the main aim was to "increase women's confidence and career opportunities".
Deputy mayor Asher Craig said it had become the "the jewel in the crown".
Ms Kosar said after the council's Stepping Up programme did not have any participants from the Somali community, the scheme's director Prof Christine Bamford approached the Bristol Somali Resource Centre (BSRC).
The BSRC set up a meeting for the community resulting in Ms Kosar and four other Bristol Somalis taking part in Stepping Up. They then formed Horumar with support from Prof Bamford.
"Some of the conditions of the course were that applicants should have management or leadership experience but not many Somalis have that, so felt they'd be excluded," Ms Kosar said.
"Many felt 'what's the point?' when issues of racism and discrimination are not fully tackled."
Ms Kosar said: "Personally I believe if we want to make a change, we must be part of that change.
"We took a bottom-up approach, imposing a programme would not be a success. We decided to support women who are struggling to find jobs, to progress and increase their confidence.
"All women - black or white - are under-represented in many areas including leadership roles and the gender pay gap.
"Women disproportionately do unpaid care work, which has also increased during lockdown, so they have that disadvantage. But Somali women experience additional challenges in the labour market being black, Muslim and female."
She said Horumar's aim was to increase the women's chances of employment and career opportunities.
"Somali women are particularly hardworking, resilient and skilled. The city's talents need to be shared equally and nobody should be left behind," Ms Kosar said.
Hibo Mahamoud was part of Horumar's first cohort and runs women-led organisation Talo, which supports Somali families to "engage and excel in all facets of society".
She said she "loved Horumar mainly for the relaxed, supportive environment".
"Somali or Muslim women in general are not oppressed, contrary to the well-known stereotype.
"However, projects like these that are facilitated by well-known people from the community encourages these women to participate because they know there will be at least one person they recognise in the room.
"The first cohort is still very much involved in Horumar. Unlike other courses, it's a continual learning platform where opportunities are shared and successes are celebrated together as a Horumar family."
Suad Aden, who has worked as a nurse in Bristol for the past eight years, is part of Horumar's second cohort and is starting an MSc in public health in January at the University of the West of England.
Ms Aden said: "Horumar has helped me a lot, especially now I am enrolling on this new course. This project is much needed, specifically in the BAME community as it appears to be the forgotten community.
"There are lots of women in this group who have so much talent and can contribute so much to their society but don't know what direction to take.
"Horumar is an amazing platform which provides guidance and mentorship to fulfil your life goals and to gain confidence to unlock your potential and abilities."
Prof Bamford said Horumar's success was because it was "community driven rather than top down".
When asked why projects such as Horumar were needed, she said: "There is a need for positive action - despite good intent the top of organisations are still white. It's about equality.
"Working with Somali women makes my heart sing. It is joyous. I have learnt that you need to work with the culture and shape training to meet their way of learning."
Funding for the second cohort has been secured with Bristol City Council and the West of England Combined Authority.
Related Internet Links
The BBC is not responsible for the content of external sites.