Jen Reid: Statue of Black Lives Matter protester appears on Colston plinth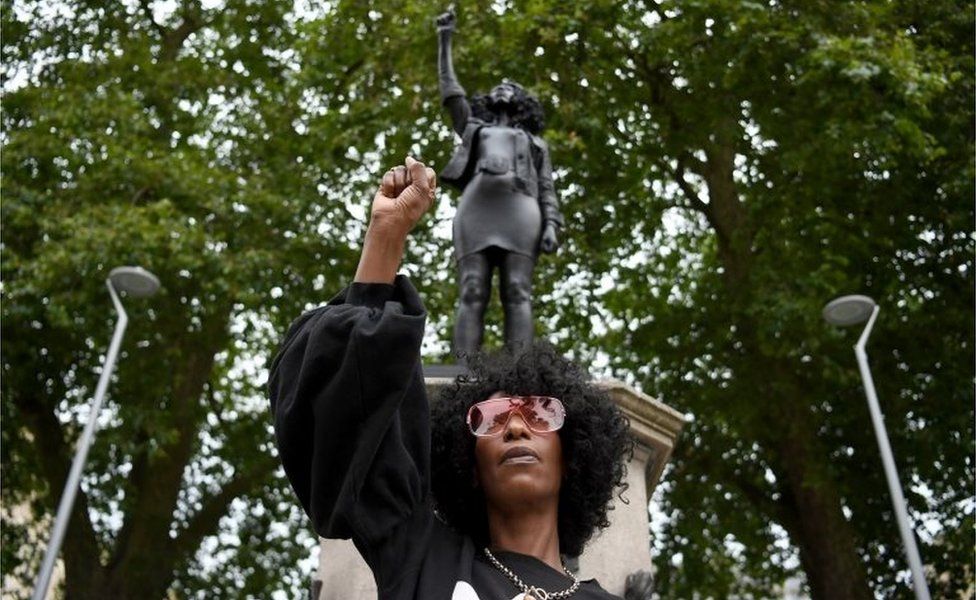 A figure of a Black Lives Matter protester has appeared on the plinth previously occupied by the statue of slave trader Edward Colston.
Ms Reid had been photographed standing on the empty plinth after the Colston statue was toppled during the march.
Mayor Marvin Rees said the statue did not have permission to be installed.
In a tweet he said: "Anything put on the plinth outside of the process we've put in place will have to be removed."
I understand people want expression, but the statue has been put up without permission.

Anything put on the plinth outside of the process we've put in place will have to be removed.

The people of Bristol will decide its future. https://t.co/dEsZF9kNRt

— Marvin Rees (@MarvinJRees) July 15, 2020
Artist Marc Quinn said the black resin statue, called A Surge of Power, was meant to be a temporary installation to continue the conversation about racism.
He said he was inspired to create it after seeing an image of Ms Reid standing on the plinth with her fist raised during the Black Lives Matter protest on 7 June.
Mr Quinn then contacted Ms Reid through social media and they worked together on the statue, which was erected shortly before 04:30 BST.
"I think it's something the people of Bristol really appreciate seeing," said Ms Reid.
"My husband took the photo on the day of the protests and put it on his social media. He was contacted by Marc Quinn who then contacted myself.
"I was in his studio by the Friday after the protest with 201 cameras surrounding me, taking pictures of me from every conceivable angle. That went into a 3D print and a mould was made."
Ms Reid said the sculpture was important because it helped "keep the journey towards racial justice and equality moving".
She said she had felt an "overwhelming impulse" to climb on to the plinth during last month's protest.
"When I was stood there on the plinth, and raised my arm in a Black Power salute, it was totally spontaneous," she said.
"I didn't even think about it. It was like an electrical charge of power was running through me.
"This sculpture is about making a stand for my mother, for my daughter, for black people like me."
Mr Quinn said: "I saw pictures of Jen on the plinth and she spontaneously made this gesture and I thought this is amazing. She's made an extraordinary artwork just by doing that and it needs to be crystalised into an object and put back on to the plinth.
"It had to be in that public realm and I wanted to put it in that charged spot where Edward Colston had been before."
Mayor of Bristol Marvin Rees, who had previously called the statue of Colston "an affront", said the new sculpture "was not requested and permission was not given for it to be installed".
In a statement, he said: "The future of the plinth and what is installed on it must be decided by the people of Bristol," he said.
"This will be critical to building a city that is home to those who are elated at the statue being pulled down, those who sympathise with its removal but are dismayed at how it happened and those who feel that in its removal, they've lost a piece of the Bristol they know and therefore themselves.
"We need change. In leading that change we have to find a pace that brings people with us. There is an African proverb that says if you want to go fast, go alone, if you want to go far, go together."
The council has established a commission of historians and other experts to research the city's "true history".
On 7 June, protesters used ropes to pull the Colston statue, which had been at the Bristol city centre site since 1895, from its plinth.
It was then dragged to the harbourside, where it was thrown into the water at Pero's Bridge - named in honour of enslaved man Pero Jones who lived and died in the city.
Bristol City Council later retrieved the statue, which will be displayed in a museum along with placards from the Black Lives Matter protest.
Related Internet Links
The BBC is not responsible for the content of external sites.