Police vehicle and car in crash on M5 northbound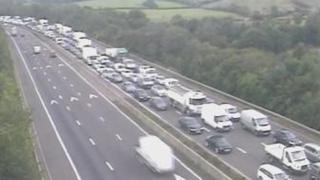 A 27-year-old man has been arrested on suspicion of dangerous driving and child abduction following a crash which closed the M5 in Somerset for 10 hours.
The collision happened at 21:40 BST on Monday as police attempted to stop the vehicle near the Clevedon junction.
Staffordshire Police said the man had been wanted in connection with an alleged assault and an alleged abduction in Tamworth on Monday.
A child in the vehicle was taken to hospital "as a precaution".
One officer was taken to hospital with non life-threatening injuries.
Staffordshire Police would not reveal the age or sex of the child that was allegedly abducted, or whether he or she was in the crashed car.
The arrests follows offences reported in Tamworth earlier on Monday, the force said.
One motorist tweeted how they made it home after a "13 hour journey."
An Avon and Somerset Police spokesman said officers in a marked car attempted to stop the vehicle, which was travelling north, on behalf of colleagues in Staffordshire.
Hundreds of motorists were left trapped on the motorway for hours as police closed the road to carry our an investigation.
The crash led to traffic delays into Tuesday morning, with Highways England saying it was involved with turning around 1km of standing traffic in the road before it was reopened before 08:00.
MP for Wells, James Heappey, who witnessed the collision, said the officers were "utterly selfless".
In a tweet he said he had been stuck on M5 for for four hours "just back from a big RTA".
"As the story breaks on what happened here, people will reflect on how brave & utterly selfless our police officers are," he said.