Bristol burst main left thousands without water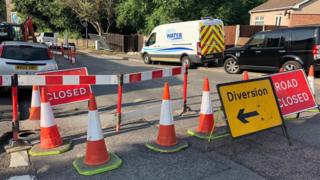 Thousands of people in Bristol were without water for more than 10 hours after a water main burst on one of the hottest days on record in the UK.
Properties in Speedwell, Eastville, Fishponds, Lockleaze, Horfield, St George and Stapleton were affected.
Bristol Water said the burst might have been caused by the hot weather.
Bottled water was delivered to vulnerable people and the company was able to restore the supply shortly before 17:00 BST.
Earlier, bowsers delivered to people without water were stood down by the company due to "low demand".
Latest news from the West of England
The burst main, on Royate Hill in Eastville, has forced the closure of the road while repairs are carried out. It will remain shut for several days.
It is estimated a total of three thousand properties were affected.
Earlier, people took to Twitter asking when they would get their water back.
Customers were told their water could return as a yellow/brown colour, which is not good to drink but can be used to flush the toilet and and wash hands.
Bristol Water said some water may still be discoloured, and that residents should run their taps for 30 minutes to clear the system.
The company said the burst might have been caused by hot temperatures causing the ground to shift and pipes to contract and expand.