Bristol Airport: Flights cancelled after snow shuts airfield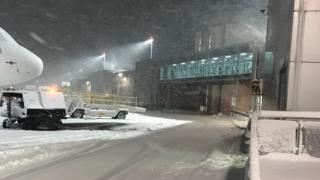 Thousands of passengers were left "frustrated" and "disappointed" after heavy snow caused Bristol Airport to shut.
Disruption continued into the afternoon as teams worked to clear the airfield. The runway reopened at 16:30 GMT.
Almost all of Friday's 130 flights to and from Bristol have been cancelled.
A spokesman thanked passengers for their patience and advised they should check flight information with their tour operators.
Wales rugby fans heading to Paris for Friday's Six Nations fixture were among those caught up in the disruption.
A BBC reporter at the airport said dozens of people were waiting for information in the departure lounge.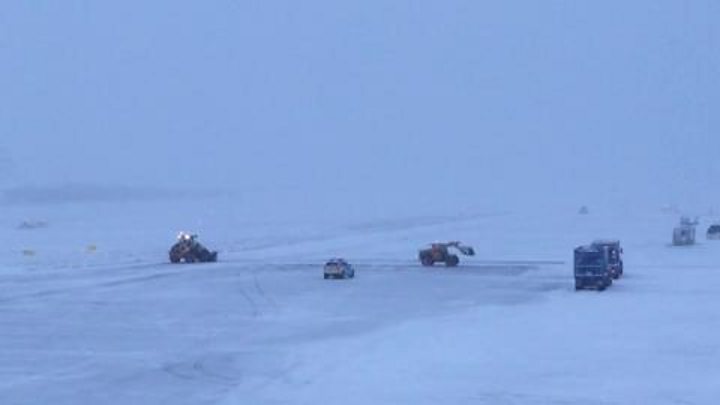 An airport spokesman said: "We anticipate operating as normal on Saturday but please contact your airline for updates on the status of your flight."
Louise Weston, from Westbury-on-Trym, was forced to cancel her holiday to Barcelona due to the disruption.
She described it as "incredibly frustrating", adding: "It's something we'd been looking forward to but you can't control the weather and I wouldn't want to be on a flight that wasn't safe.
"We are lucky that we'd booked a package so we'll get a refund at least and can make other plans."
Sarah Trevelyan, 43, from Henleaze said she was "very disappointed" to have to abandon her "much-anticipated holiday".
Jenni Need, from Bristol, and her husband were stranded in Venice, where they had spent their honeymoon.
They were due to fly home on Thursday night but their EasyJet flight was cancelled as was their rescheduled flight this morning.
"My partner got on the phone to EasyJet because we were adamant we weren't going and queuing in the airport again," she said.
"He managed to reschedule it a second time until hopefully Sunday.
"We're stuck here in a hotel room, no euros now we've spent all our money, twiddling our thumbs waiting for Sunday. We're trying to make the best of a really bad situation."
Information about the cancelled flights can be found on the airport's website.
British Airways also cancelled dozens of flights from Heathrow Airport on Friday morning due to the weather conditions.
The Met Office said 14cm of snow fell in Dunkeswell, Devon, while 3 to 5cm fell across Somerset.
Hundreds of schools across the west country were also closed due to the snow.