First Bus Bristol drafts in extra buses to tackle congestion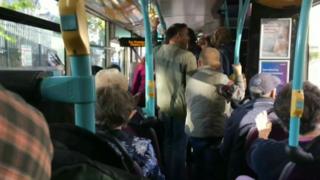 A bus operator has said up to 20 new "congestion-busting" buses will help alleviate "shocking" delays on services in Bristol.
Passengers have complained of delays, cancellations and overcrowding on First Bus routes.
First has blamed the problems on Bristol's traffic problems, saying it often leaves "gaps in services".
The firm has now spent £150,000 to try to solve the problem with buses borrowed and drivers also drafted in.
Many of the problems on the bus network have played out on social media with passengers bemoaning late services.
"Would be a change to catch one bus this week that was on time," said one frustrated customer.
'Chronic congestion'
First said the extra buses, which have been drafted in from other parts of the country, will be deployed when traffic significantly delays journey times.
Managing director James Freeman said: "Chronic congestion across the city, particularly at peak times, means we can't always offer customers the reliability that they rightly expect from a bus service.
"This dynamic approach to route control means we can swiftly plug gaps where the timetabled bus has got held up and hopefully get our passengers on their way a bit quicker."