Gwenda Gage from Bristol is Headway's Carer of the Year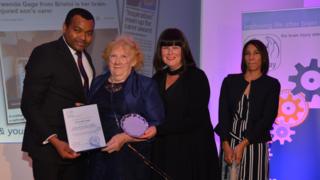 A disabled mother has won a national award after devoting the past 24 years to her brain-injured son.
Gwenda Gage, 76, from East Harptree near Bristol, was one of three people nominated by Headway - the brain injury association - for Carer of the Year.
Chief Executive of Headway Peter McCabe said: "Gwenda is an incredible mother. She has shown unfaltering love in the face of incredible adversity."
She was handed the award at a ceremony in London on Friday.
Ms Gage suffers from inflammation of the lung and needs an oxygen to tank to help her breathe. It also affects her mobility.
Her son Steven was injured jumping from a fourth floor window to escape a fire.
The accident in 1994 was so severe that Steven was put into a coma. When he came round he had to learn to walk and talk again.
Mr Gage's brain injury has affected his emotions meaning he lacks insight on how his behaviour impacts on others. He also struggles to care for himself.
Despite living 15 miles away, Mrs Gage helps her son with remembering medical appointments, dealing with the local council over housing issues, and talking agencies to get him support.
Mrs Gage was nominated by Tracey Lathrope, one of Headway Bristol's Carers Support Workers, who described her as "an inspiration" to everyone.
Mr McCabe said: "She has given her son constant love and support in what must have been an incredibly tough few years - both physically and emotionally.
"She is also a very valuable member of Headway Bristol and is always keen to help other carers going through similar problems. She is a very worthy winner of this award."