Collapsed Helm Construction firm 'owes £3m' to suppliers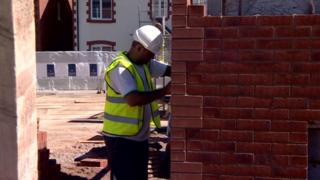 A building company which collapsed earlier this week owes £3m to firms in its supply chain, the BBC understands.
Administrators for Helm Construction in Severn Beach, near Bristol, said the firm suffered cash flow problems after not getting paid for two or three key contracts.
Building recruitment agency Darcy Associates, which supplied workers to Helm, says it is owed £78,000.
The firm's directors have declined to comment.
Nathan Ferris, from Darcy Associates, said: "About two and a half months ago, the payments started to slow down.
"We ended getting smaller amounts of money from them and they promised they were being purchased by another company.
"They've now issued the administrators which means it's quite unlikely we'll get anything at all."
Another firm, SN Brickworks has said it is owed £25,000 and has been forced to cut eight members of its team of 15 bricklayers.
Sean Neale, from the company, said: "We need to pick up more work to keep the guys going which isn't easy.
"Financially it's very hard, people have got bills to pay and it couldn't have happened at a worse time."
The administrators said: "A number of interested parties have engaged with the administrators regarding acquiring the business, or some of its key contracts, but no sale has been concluded, as yet.
"The Joint administrators are continuing to engage in discussions."
Across the UK, 4,000 firms in the construction industry have shut down in the past 12 months according to the Federation of Master Builders.
Sarah McMonagle, from the organisation, said: "We know that material prices have gone up since the referendum.
"Wages and salaries are very high because of the construction skills shortage and even things like diesel price increases are putting pressure on the margins of small construction firms."