Bristol aerospace research centre to create 300 jobs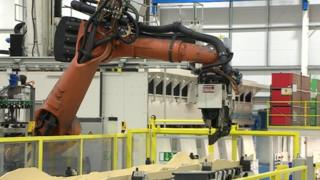 One of the biggest aerospace firms in the West country is to build a £32m research centre creating 300 jobs.
GKN's Global Technology Centre will be located in Filton, near Bristol, where engineers will help design wings and developments in electric aircraft.
It will also contain space for research and development with universities ranging from engineering and science to arts, social sciences and law.
The 10,000 sq metre centre is expected to open in 2020.
Chief technology officer, Russ Dunn, described the facility as a long-term investment - with plans up to 2040.
"We're looking at more electric aircraft and looking at opportunities for both military and commercial aircraft," he said.
"We're looking to develop technologies to enable us to make more competitive products that are both greener and more efficient."
Analysis
Dave Harvey, business correspondent BBC West
In the midst of all the political uncertainty over Brexit it was a surprise to get the phone call saying they would be going ahead with it.
I talk to a lot of people in aerospace and there are some huge worries about issues like European certification marks on their products.
With no deal, Britain falls out of that body and there's nobody to stamp the paperwork to say the wings can fly and that's quite a big problem.
The big companies can set up European firms to do the paperwork. But for a smaller West country one it's much harder and all the extra bureaucracy would be a real headache.