Steiff teddy bears could fetch £10k at auction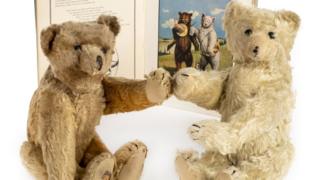 A pair of German-made Steiff teddy bears are expected to fetch £10,000 at auction.
The rare rod-jointed bears have been in one family's possession since 1904 and were originally purchased in the US where the family then lived.
The owner of the bears said: "I am astounded at the estimated values. I really had no idea what to expect."
Teddy B and Teddy G, as they are known in the family, had to be X-rayed to check their authenticity.
Susanna Winters, toys and games specialist at Dominic Winter Auctioneers in Gloucestershire said: "Rod bears are rare, and the appearance of a well-preserved pair of such teddy bears at auction, which have been in the same family since new, is an exceptional occurrence.
"I had spoken to both Antiques Roadshow toy expert Bunny Campione and teddy bear expert Daniel Agnew, and the only way to prove they were rod bears was to get them X-rayed.
"The vets were very amused when I arrived with a bag of teddies and explained what we wanted, but they fell in with the plan and the vet staff were as jubilant as I was when the x-ray confirmed our hopes."
'Not played with much'
The two up for auction were bought by the current owner's grandfather, George W Elkins, as a child.
Mr Elkins travelled extensively with his parents but the bears were often left behind and "not played with much".
The current owner - who wishes to remain anonymous - also recalls not being allowed to handle them as a child and for some years they "had been confined to an old trunk".
The bears were known in the family as Teddy B and Teddy G after the duo in Seymour Eaton's famous storybook The Roosevelt Bears.
A copy of the story also accompanies the bears, which tells the adventure of two bears who leave their western home and take a train east to see the sights.
The bears will be auctioned on 13 December at Dominic Winter Auctioneers in Gloucestershire.