Dentures with gold false tooth flushed down toilet in Bristol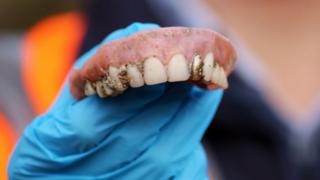 A set of dentures complete with a gold false tooth have ended up at a sewage plant after apparently being flushed down the toilet.
Wessex Water is looking to trace the owner of the distinctive gnashers, which made their way into Bristol's sewers.
The firm wants to return them - but only after the dentures have been given a thorough scale and polish.
It clears about 13,000 blockages from public sewers every year.
Wessex Water's Matt Wheeldon said: "We've found dentures at our treatment works before but never with a gold tooth attached - perhaps it has sentimental value to the unfortunate owner, so we'll happily clean and return them.
"People would be amazed what gets fished out of the sewers, from children's toys to mobile phones, and this often raises a chuckle among our staff.
"But there is a more serious message - items like this shouldn't be flushed, and can cause blockages and sewage flooding in people's homes."