First Bus passengers stage protest in Bristol over service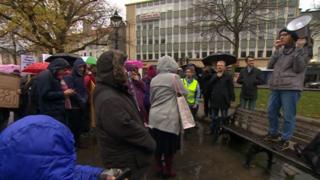 More than 100 people gathered to take part in a protest over poor bus services.
They met on College Green, Bristol, to demand a better service from First Bus (West of England) after months of delays and overcrowding.
Organiser Frankie Langeland said buses were often cancelled or so full that drivers were not picking up passengers.
First Bus said it had recruited more than 100 new drivers but the wider problem was congestion in the city.
"It's been really great that First have managed to recruit more drivers, that has made a big improvement," Ms Langeland said.
"But there are still a lot of delays, the price for a lot of people has gone up... which a lot of people are angry about.
"People are having problems with buses not turning up at all... buses being cancelled, buses are driving past because they are so full they weren't able to pick anyone up... and this is just happening day in day out.
Rob Pymm, commercial director at First Bus (West of England), said the company understood the passengers' frustrations and apologised for the service issues.
"It's been well-known internally that the problem is driver shortage, we've made really good progress with that - we've brought on more than 100 [new] drivers in the last six weeks," he said.
"The bigger, wider issue is congestion. We can fix the driver problem but what will still remain is the congestion in the streets we see every day."
Earlier this month the region's metro mayor, Tim Bowles, described overcrowded buses, with regular cancellations and delays, as "good news" as it showed an increasing number of people were using public transport.