Asiyah Harris murder: Neighbours 'looked for uncle'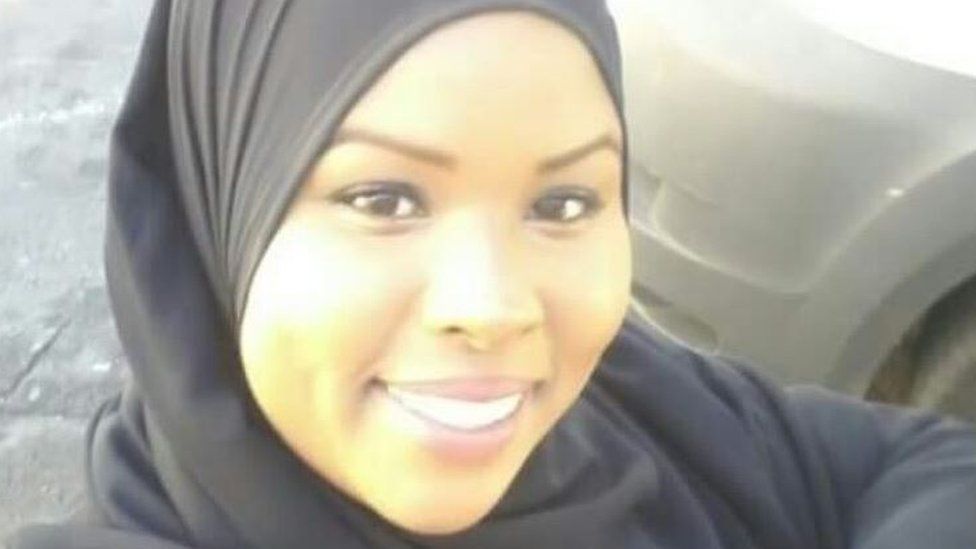 Neighbours of a woman stabbed by her husband went to find her uncle rather than call 999 as she lay dying.
Asiyah Harris, 27, was stabbed to death when she tried to end her marriage after years of abuse.
When neighbours heard Ms Harris screaming they called her uncle "because they knew him", her brother Shuyab said.
Police said issues "within communities and within faiths" might stop people coming forward.
Somali national Ms Harris was attacked by Adan Dahir, the father of her two children, at their home in St Paul's, Bristol, in August 2017.
She had previously told family members about times when her husband had assaulted and stabbed her.
Shuyab Harris said he wished his family had gone to police rather than handling it themselves.
Relatives should have intervened sooner, he said, but there was a culture of managing problems within the family rather than asking for outside help.
"She tried to leave three times that day and each time she was brought back," he said.
On the evening of her murder, Ms Harris' neighbours went to get her uncle, but by the time he arrived she was dead.
"My sister was yelling for help and there were different Somali neighbours who could understand what she was saying but instead of dialling 999, they decided because they knew them to tell my uncle," Mr Harris said.
"When it comes to violence or emotional abuse over a long period of time and you witness it, report it.
"If you see something, say it, don't try to find the most covert way of doing just because you don't want to bring a problem or shame. You could save a life," he said.
Her mother said she wished her daughter, who was pregnant with a second child, had confided in her about plans to leave Khadar and how unhappy she was.
Istahil Ahmed said: "He didn't want a divorce, he didn't want her to have another life, that's why he killed her.
"Nobody told me. My son wanted to tell me but he didn't."
Det Ch Insp Gary Haskins of Avon and Somerset Police said he understood cultural concerns and a mistrust in police could stop people from seeking outside help.
"But we will support absolutely anybody to come forward and make a complaint," he said.
"Domestic violence is a horrific crime and it shouldn't be suffered in silence."
Natasha Rattu, from charity Karma Nirvana, said victims of domestic abuse are often in an abusive relationship for nearly two and a half years before they seek help.
"For victims from black, minority and ethnic communities it is often longer," she said.
"The dynamics of family honour often prevent a victim from coming forward sooner putting them at greater risk of harm."
Related Internet Links
The BBC is not responsible for the content of external sites.