'Anti-homeless' Bristol car park bollards criticised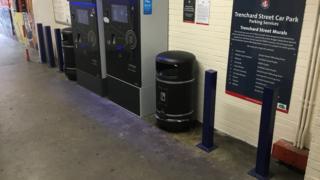 Metal bollards have been installed in a car park in Bristol to deter "aggressive begging".
Staff in the Trenchard Street multi-storey say they find faeces, urine and used needles there on a daily basis.
However, the measures have been labelled "anti-homeless" by a charity outreach worker.
Bristol council said the bollards had been installed on each level due to an "increase in complaints of aggressive begging" targeting paying drivers.
The car park is well-known for rough sleepers using its stairwells for shelter and featured in BBC Three's Drugsland documentary last year.
Julie Dempster, from Bristol Outreach Services for the Homeless, said she "didn't agree with any anti-homeless measures like these".
"It isn't always the rough sleepers that are begging, we do see people living in hostels or flats who come to beg there," she said.
"I myself find it difficult to go to a machine when you know there's somebody sitting there asking for money, it's not ideal."
People have criticised the move on social media:
A council spokesperson said they had received "numerous reports" of anti-social behaviour in the car park over the last two years.
They said the bollards had been installed "only around the pay stations in the car park, in response to a sharp increase in the number of complaints of aggressive begging in these areas".