Bristol volunteers bare all for art photos in bar window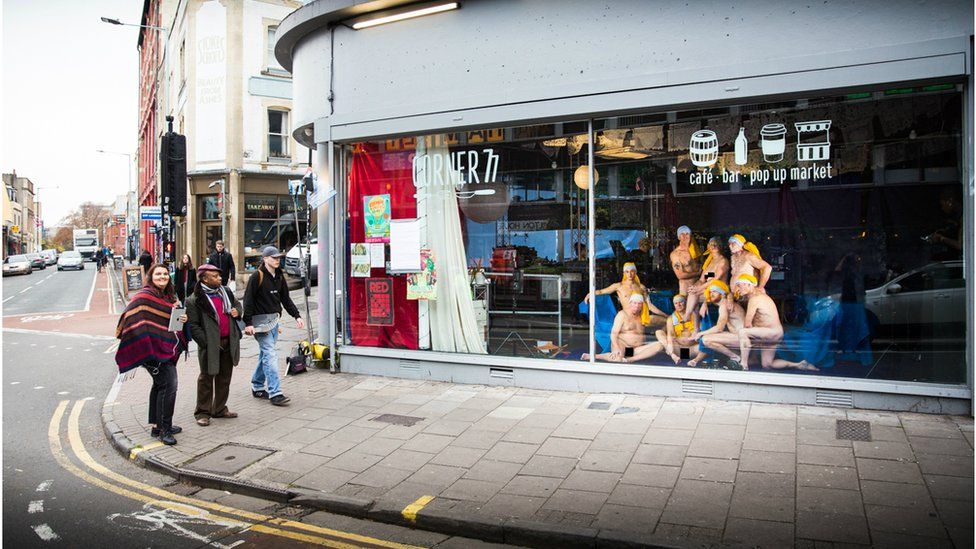 Volunteers dared to bare all in a bar window in the name of art.
Artist Claudio Ahlers, took photographs of Bristolians of all ages for his project called Stokes Croft Exposed.
The eight participants were arranged behind closed doors in the window of Corner 77, in the Stokes Croft area of the city on Thursday, before being unveiled to the passing public.
The aim of the project was to celebrate common humanity and to show people as their genuine selves.
Mr Ahlers said: "The feedback was fantastic. Some people passed by, some didn't know how to react."
The photographer said he did not want to shock but to be considerate
"Yes, nudity is often considered shocking but it has power and shared humility. Vulnerability shows our genuine selves," he said.
"I was really lucky to have a group to make it work and it made for some wonderful pictures, real living photographs."
In December 2017, Mr Ahlers spent a day inviting people to sit for a photograph in a bright living-room set built temporarily on the junction of City Road for his project "24H Our City - The People of the Croft".
Related Internet Links
The BBC is not responsible for the content of external sites.