Staff 'switched between Brexit campaign and Arron Banks insurance firm'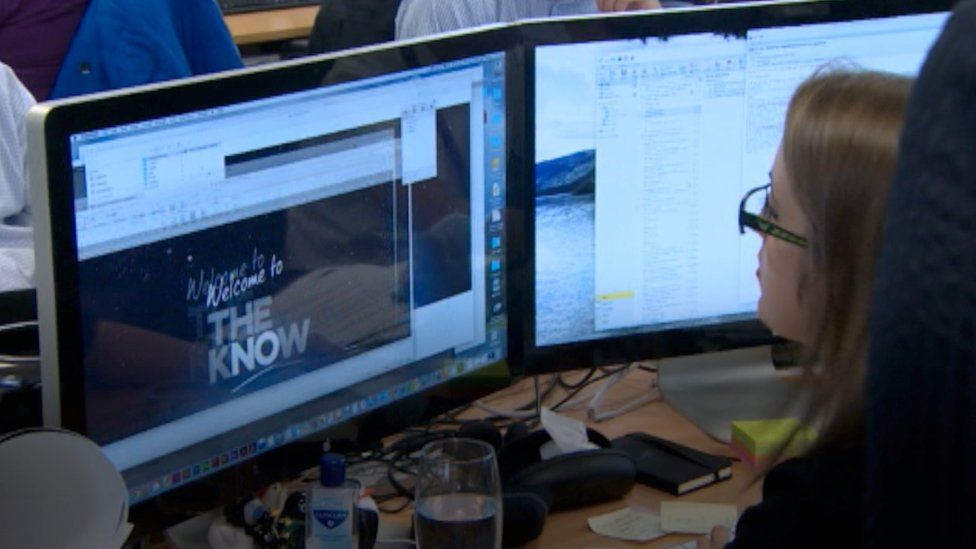 BBC footage filmed at Brexit campaign founder Arron Banks's office suggests staff switched between his insurance firm and the EU campaign.
In June he told a committee of MPs nobody worked for both organisations and its chair said the footage showed the MPs did not get the full picture.
However, Mr Banks told the BBC's Andrew Marr this month some staff did transfer on short-term contracts.
Mr Banks and Leave.EU have denied any wrongdoing.
The footage - archive that was recently re-examined by BBC Inside Out West - was filmed in the offices in Bristol then used by both Mr Banks's Eldon Insurance business and the campaign to leave the EU.
It shows people apparently working for the referendum campaign who had previously worked in the insurance business.
An operations manager says on camera she had worked for Mr Banks previously for six years in insurance before moving to the campaign.
And an organisational chart shows names of staff who have worked for both organisations.
In June of this year Mr Banks suggested to the Digital, Culture, Media and Sport select committee that staff had at no stage worked for both organisations.
But earlier this month he admitted to Andrew Marr: "People who did work for Eldon were transferred over on short-term contracts legally, and it was reported through the Electoral Commission in the right way."
The footage was filmed before spending restrictions over the European referendum came into force.
In one sequence in the footage, Leave.EU chief executive Liz Bilney is seen at Mr Banks's office in Bristol asking an insurance worker to bring up an image for the Brexit campaign - at that point called The Know - on the screen and said "just pretend that you're working on it".
Another worker says she had "started in the insurance side" having worked for Mr Banks for six years and then moved to work on the campaign.
When asked in the 2015 footage if the social media team usually worked on insurance but could work on the leave campaign, Ms Bilney said they had looked at "what skills are transferable and what skills aren't transferable".
"Social media skills, for example, are completely transferable and if you're a creative person you're creative and passionate about what you do," she said.
"So we found that works and our finance director, for example, can look after our group so that skill, again, is a nice transferable skill."
She added that staff were "very adaptable" and said "we like to morph and evolve into different things".
When Mr Banks was asked in the select committee hearing if he used "staff that had previously worked in the insurance business in Leave.EU", the businessman replied "no, no".
What Arron Banks told the select committee
Ian Lucas MP: "You made clear earlier that you didn't use the same employees."
Arron Banks: "So within our office we had an office set up that was for Leave.EU. It was a call centre. And we were getting a tremendous number of phone calls from our, obviously, the website, from Twitter, from Facebook and for the whole thing."
[Later in the same hearing]
Mr Lucas: "So did you use staff that had previously worked in the insurance business in Leave.EU?"
Mr Lucas: "Where did these people come from?"
Mr Banks: "Well we created a team of people as you would do in a business. We just put people together."
Ms Bilney has since said the people who had previously worked for the insurance firm were on "seconded contracts until they were seconded back after the referendum".
She added that other functions, such as IT and HR, were billed to Leave.EU by Eldon Insurance after the referendum and that a compliance officer had overseen this.
Ms Bilney also admitted in an interview with the BBC in the past week that employees had worked for both businesses and said that Mr Banks's comments to the MPs had been taken out of context.
Having seen the footage, Damian Collins, the Conservative MP who chairs the select committee, said: "The people working on computers there could just switch seamlessly between one campaign to the other.
"Now, if this was kept totally separate, then that wouldn't be possible. You would have firewalls in place to stop people doing that, to make sure these things are kept completely separate.
"But what you can see here is it quite clearly wasn't separate at all, it was all mixed up together. So it means he, Aaron Banks, wasn't telling the truth or giving us the full picture when he gave evidence to parliament.
"Of course, it raises all sorts of questions that if workers were working on both campaigns at the same time, how was that accounted for to the Electoral Commission in terms of time and also were there any breaches of data protection law because of the different ways data was being processed?"
Ms Bilney has denied data was used improperly.
Mr Banks claimed the BBC had been working with Open Democracy and "the purpose of which is to discredit the Brexit campaign."
The BBC has not worked with Open Democracy on this report into links between staff for Eldon Insurance and Leave.EU.
Mr Collins said the footage would feed into the select committee's inquiry into fake news.
Mr Banks is the subject of a police probe into claims he was not the "true source" of £8m loaned to Leave.EU.
An investigation into the businessman's donations to Leave.EU during the 2016 Brexit referendum has been referred by the Electoral Commission to the National Crime Agency, which has said potential criminal offences may have been committed.
Correction 6 December: An earlier version of this article included specific claims by Arron Banks about the purpose and funding of Open Democracy. These claims are disputed by Open Democracy, which points to a list of its financial supporters available publicly on its website and says it is a "non-partisan news website, and have since been removed.