Bristol doctor claims to beat double buggy marathon record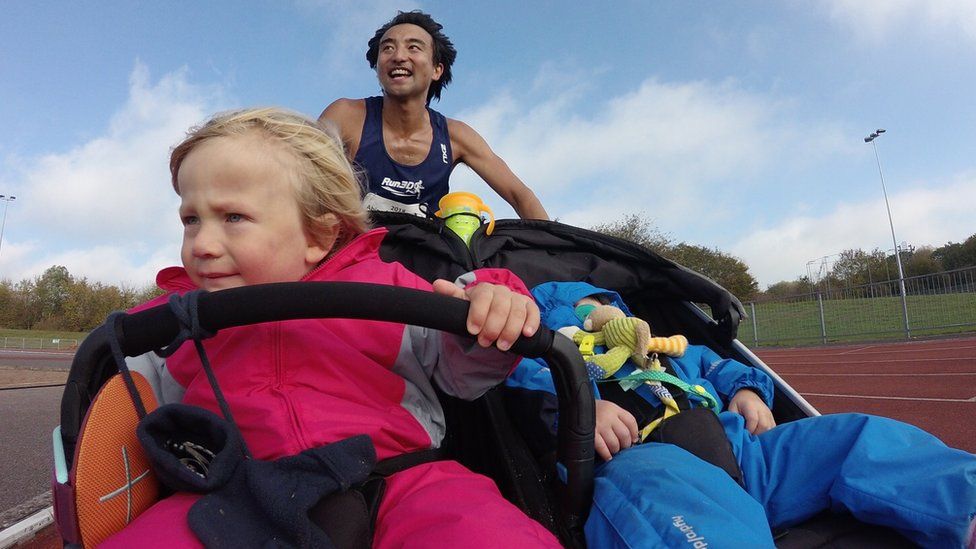 An orthopaedic surgeon claims to have set a new world record for running a marathon while pushing a double buggy.
Dr David Bruce, from Bristol, completed the Abingdon marathon in two hours and 54 minutes while pushing his children Daniel and Emilia.
In 2017 his wife, Jessica, became the fastest woman to complete the challenge, finishing in three hours, 22 minutes and five seconds.
Guinness World Records has yet to verify the attempt.
The current men's record is three hours, nine minutes and six seconds, achieved by Paulo Franco in Porto, Portugal, on 5 November 2017.
A Guinness World Records spokeswoman said it was "likely" Dr Bruce had broken the record.
Dr Bruce, a registrar at the Bristol Children's Hospital, has been fundraising for the hospital's charity The Grand Appeal and Bristol Orthopaedic Trust.
"It was a lovely day and the kids were brilliant", he said.
"I had a pouch full of snacks, milk and games for them, but I didn't need to stop once.
"We had an early start so they had a sleep and then they were just chatting and playing."
Dr Bruce added that he "was pleasantly surprised with the time on the day."
A spokeswoman for Guinness World Records said: "We look forward to receiving and reviewing all Dave's evidence in due course, following his impressive achievement.
"When an adjudicator is not present, all evidence must be sent to the Guinness World Records team for review before a record can be verified and although I am unable to talk about the status of specific applications that are not yet records, it is likely to be the case here."
Related Internet Links
The BBC is not responsible for the content of external sites.