New website launches 'to fill the gap' in burns care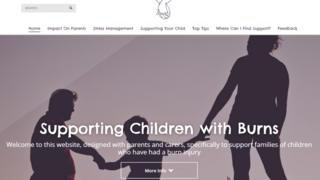 A new website is hoping to become an invaluable resource for parents of children with burns.
The site was developed by Dr Jennifer Heath of the University of the West of England (UWE) in Bristol with extensive input from affected families.
It advises on problems such as dealing with the reactions of others and supporting a child experiencing bullying.
The NHS says 7,500 UK children access specialist burns treatment each year.
'Very isolated'
Clinical psychologist Dr Heath said the idea came about after speaking to parents about the experience of their children's burns and how difficult it was to access support.
"Parents told me how they would value this knowledge but they'd be wary of [internet] forums because of the risk of being judged," she added.
Prof Diana Harcourt, director of the Centre for Appearance Research at UWE, said parents often do not access support available to them because they focus too much time on the child who has burns.
She said parents and carers often became stressed because they felt guilty that the burn had occurred in the first place.
"They can feel very isolated because they don't know other parents who have been through... [and] what impact it will have on the child in the future.
"If the parents feel supported, then they will be in a better position to support the child.
"We wanted the voices of parents themselves to come through the website," she said.