Light rail 'could reopen' Portishead-Bristol line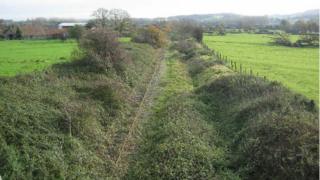 Trams or light rail trains have been suggested as a lower cost way to reopen a suburban line.
The Bristol to Portishead line closed to passengers more than 50 years ago. Attempts to bring it back into service have so far proved too expensive.
Metro mayor Tim Bowles said the move could cut congestion by providing rail access to 80,000 people.
The move could also open up the possibility of running direct trains from Severn Beach to Bath and Westbury.
The Portishead branch line shut in 1964 but has been used for freight since 2002.
'Opportunities'
Transport campaigners want the line reopened to the public to relieve the pressure of commuters trying to get to Bristol, 10 miles away.
Alan Matthews, chairman of the Portishead Railway Group, warned that mixing trams and freight "would not work".
But he added: "Anything that gets it sorted is a good thing, and everybody wants this to work."
A bid for £46.9m to fully reopen the Portishead to Bristol rail line was turned down earlier this year.
Mr Bowles said the new option could generate an extra 1.7 million railway passengers.
He said he also wanted to reopen Henbury station and provide more frequent services to Yate.
"I hope including light rail as an option for Portishead will reduce the cost of reopening the line and also open up other opportunities within the region."