First Bus Bristol chaos continues due to driver shortage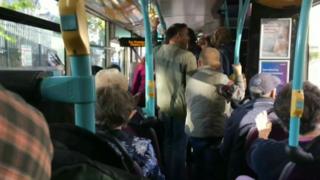 The "shocking" problems on a city's bus network caused by a driver shortage are expected to continue for several weeks.
Passengers have complained of delays, cancellations and overcrowding on First Bus routes in Bristol.
The operator is drafting in drivers from other areas to ease the problem.
Managing director James Freeman apologised to customers, added: "I think it will be a few weeks before this is behind us and we're back to some sort of normality."
First Bus also blamed the temporary closure of Bristol Parkway railway station and the new school term.
'Serious overcrowding'
Customers have been quick to vent their anger on Twitter.
"Another day, and a late bus. Would be a change to catch one bus this week that was on time," said one frustrated customer.
Said another: "I need to know which buses from Bristol to Yate are going to be cancelled again this evening as this is happening on a daily basis. This service is shocking."
And another customer described the "serious overcrowding issues" on the No 19 Kingswood-Bath service.
Speaking to BBC Radio Bristol, Mr Freeman said: "The fact is we don't have enough bus drivers.
"We're getting drivers in from other places to drive our buses and get the buses on the road.
"That isn't something that happens overnight, but we are way ahead of what we were a couple of weeks ago."
The temporary closure of Parkway station to allow engineers to electrify the line between Bristol and London has put added pressure on the operator's bus network.
And last week First Bus apologised for overcrowding on the U1 and U2 University of Bath service it says was caused by "a significant higher number of customers".
It added 13 buses, which provided more than 1,000 extra seats per hour, to the routes.