Teacher accused of pupil plane sex 'told boy of pregnancy'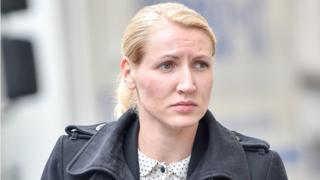 A schoolteacher accused of having sex with a 16-year-old pupil on a plane said she told the boy she was pregnant because she "wanted someone to feel sorry for her".
Eleanor Wilson is accused of having sex with the boy on a school trip in 2015.
She told the court she did not reveal her pregnancy fears to her partner because she was afraid of his reaction.
Ms Wilson, 29, denies four counts of sexual activity with a child under 18 while in a position of trust.
Under questioning from defence barrister Anna Midgley, Ms Wilson said the boy, who cannot be identified, came into her office and asked why she was crying. So she told him of her pregnancy.
"I was scared. My guard was down, I was upset," she told Bristol Crown Court.
"It was inappropriate to tell him. I wanted someone to feel sorry for me."
'Morally wrong'
Ms Wilson, of Dursley, Gloucestershire, told the jury she thought she may have become pregnant but did not want to tell her boyfriend "because of what he might do".
"I said, 'What would you think if we were to have a baby?'. He said 'You'd find your way to the bottom of the stairs.'"
Virginia Cornwall, for the prosecution, asked why Ms Wilson told the pupil not to say anything about him having "extra meetings" with her.
"It was against school policy. He was struggling personally," answered Ms Wilson.
"Because when we got back to school I was ashamed and scared of losing my job."
"You knew it was morally wrong," said Ms Cornwall.
"It wasn't morally wrong, it was coming from a good place," Ms Wilson replied.
The court heard how the science teacher at a Bristol school had asked her pupil to delete text messages between them after "almost daily contact" by phone.
Ms Wilson said the boy became "over familiar" and they "shared personal details, which I wouldn't have done with other students".
"He had shared stuff with me, and at the time I didn't have anyone else."
'So angry'
She admitted going to the boy's house when his parents were away but denied any sexual activity took place, or going into his bedroom.
Ms Wilson told the court: "We had the opportunity but it didn't happen."
The court heard that Ms Wilson was in a relationship with her ex-partner for nine years, and he was the father of their unborn baby.
However, prosecutors alleged she needed to tell the boy about the pregnancy "because there was a guilt because you knew he was the father", a claim she denied.
Ms Wilson said: "He wasn't the father. The fact that he's made this about him makes me so angry."
She admitted hiding the fact she was in contact with the boy from her boyfriend.
The trial continues.