Eels microchipped to track movements in Gloucestershire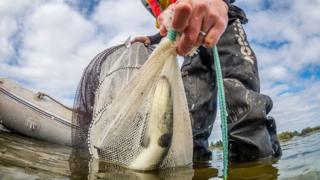 Wild eels are being microchipped like household pets in a bid to track their movements.
Adult fish are being caught and tagged at the Wildfowl and Wetlands Trust (WWT), Slimbridge in Gloucestershire.
The chip is designed to trigger a reader as eels leave the Slimbridge site to start their 3,000 mile (4,800 km) swim to the Sargasso Sea to breed.
Conservationists are hoping by knowing how eels use the reserve and when they leave, they can improve eel access.
Millions of tiny glass eels end up in the River Severn, after drifting across the Atlantic Ocean for two or three years from the Sargasso Sea.
The young then mature in the fresh waters of the Severn Vale wetlands, growing up to one metre long, before leaving and disappearing back into the North Atlantic Ocean.
But as wetlands have been lost and migratory paths blocked by pumps and sluices, eel numbers have nose dived, according to the WWT.
Emma Hutchin, from the trust, said the European eel is the "most endangered species living" at Slimbridge.
"Numbers of glass eels returning to the UK have decreased by 95% in the past 40 years and they urgently need our help," she said.
"As one of the biggest wetland areas within the Severn Estuary under conservation management, Slimbridge is an ideal place to enhance for eels."
The project will eventually be extended to the wider Severn Vale area.