City Conversation pledges to tell Bristol's history 'truthfully'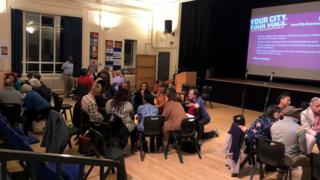 An event which explores Bristol's racial inequality has pledged to tell the city's past "truthfully".
Three local institutions set up City Conversations after a report by the Runnymede Trust highlighted Bristol's "ethnic minority disadvantages".
More than 100 people attending a debate this week were asked how to transform the pledge into "action plans".
Much of Bristol's wealth came from the Transatlantic slave trade. The city has been attempting to confront its past.
'Listening not enough'
The Bristol Post, the Bristol Old Vic Theatre and Ujima Radio - who have jointly organised the four City Conversation events - said the 2017 Runnymede report showed Bristol was "the most segregated core city in the UK".
The third public discussion, which was held at Cotham School this week, included representatives from schools, businesses, media and religious organisations.
Tom Morris, from Bristol Old Vic, said: "Nothing will change unless we collectively make it happen".
Mr Morris said "four initial pledges had been developed to create lasting change in the city" and working groups would "explore the possibilities of change" and report back at the final City Conversation on 8 January.
He said: "Quite quickly, the people in the conversations told us that listening wasn't enough.
"We needed to turn the conversations into a plan. So that is what the people in the room at Cotham School have started to do."
City Conversation pledges:
Create a Bristol curriculum to tell Bristol's history truthfully and without bias, and provide better educational outcomes
Achieve better representation at board/governance level.
Tackle employment inequality to achieve better representation in the general workplace
Find a way to commemorate the city's relationship with the Transatlantic slave trade