'Blocked road' note left on ambulance in Bath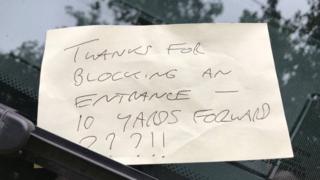 An ambulance service has condemned a note about a blocked road while crews attended a "life or death" incident.
Paramedics were called to a "top priority" incident at a house in Bath on Monday which they needed to attend "within minutes".
But the crew returned to find a note on the windscreen asking why they had not parked "10 yards forward".
South Western Ambulance Service said it was not always possible to park conveniently.
A spokesman said the crew's parking was hampered by Bath's narrow streets.
"We want to educate people as to why the ambulance was there," he added
"We try hard not to block people in as we know it can be frustrating.
"In an emergency every second counts and it's not always possible to park in the most convenient places."
Had the crews not attended as quickly as they had the outcome "could have been serious", the spokesman added.
The latest note on an ambulance windscreen comes after a spate of similar incidents across the country.
In February, a woman was convicted of abusing paramedics and leaving a foul-mouthed note on a windscreen in Staffordshire.
But earlier this month, one person left a £10 and a note of praise asking for the paramedics to buy themselves a coffee.