University of Bath and South Gloucestershire Council buy science park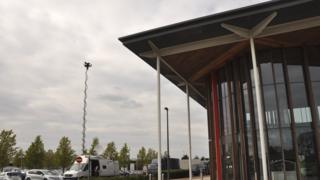 A science park on the outskirts of Bristol has been bought in an £18m joint venture between a university and a local council.
The University of Bath has said it plans to use the Bristol & Bath Science Park for automotive research.
South Gloucestershire Council leader, Toby Savage, said if the Emersons Green site prospered, it would bring extra income to the authority.
The site had previously been owned by the government.
In a joint statement, the new owners said they hope their complementary strengths, expertise and networks would "fully realise the park's potential as a centre of excellence for research and development across the region."
Plans for the 36-acre (14.5 hectare) site, which was sold by the Department for Business, Energy and Industrial Strategy, also include expanding the National Composites Centre, a "Grow-on Centre, to build on the success of the existing complex", and maximising the use of the park's exhibition and conference facilities.