Man's penis amputated following cancer misdiagnosis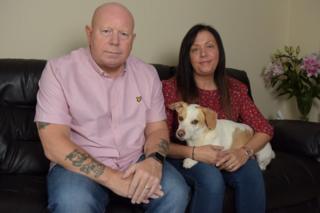 A man whose cancer was misdiagnosed as a rash is warning other men to get specialist help after his penis had to be amputated.
Neil Walker said he was told not to worry by his GP, but insisted on having more tests after it failed to clear up.
The 54-year-old from Bristol, who was diagnosed in November 2014, initially had the tip of his penis cut off and replaced with skin from his leg.
However, the cancer returned and Mr Walker had to have the organ removed.
"I have been left feeling completely de-masculinised and I know that if I had caught the cancer sooner I'd still have my manhood," he said.
'Entering a battle'
The former firefighter and father-of-two says since his surgery in March he has been urinating through a "hole" behind his testicles.
He is unable to have reconstructive surgery because there needs to be a certain amount of the original penis left.
"As soon as they told me I was shocked because I thought it was just a rash, but suddenly I was entering a battle with cancer," he said.
"It didn't even click in my head that I'd need amputations and would eventually lose my penis."
Two months after having his first operation he had to have the lymph nodes in his groin removed and had sepsis four times in a year.
He has also lost the sight in both eyes because of a complication with his cancer medication.
He is now warning other men not to be embarrassed if they have problems with their genitals and to go and have them checked by a GP.
"It could be the difference between saving or losing your genitals," he said.
"If I had seen a specialist faster, there could have been a chance that I wouldn't have lost my penis."