Row over future of Bristol miniature railway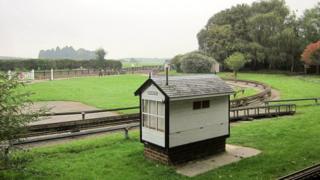 A row has broken out over a closure-threatened miniature railway run by volunteers.
The attraction at Ashton Court, Bristol, is operated by the Bristol Society of Model and Experimental Engineers (BSMEE).
Bristol City Council warned the society its lease may not be renewed as it does not make enough money.
A 12-month extension has now been agreed, but the group was told it needs to become financially viable.
Deputy mayor Asher Craig said the extension until the end of summer 2019 would allow time for a long-term solution to be discussed.
She said: "I have no problem with the railway being retained at Ashton Court but it needs to wash its face.
"The cost of running Ashton Court is nearly £500,000 a year."
A council debate was prompted by an 8,000-signature petition which supported an affordable rent for the attraction.
The railway began operating at Ashton Court in 1973 and its current lease was due to run out in November.
Lib Dem councillor Gary Hopkins told the meeting the way the volunteer group had been "attacked" was "absolutely staggering".
Mr Hopkins added: "I find it unbelievable that the mayor and his administration want to take on an organisation like this that is costing the council nothing and contributes to the wellbeing of the city."
The meeting heard that the council spends £500,000 a year on the Ashton Court site, but financial constraints to the authority's budget meant it had to justify "the best use of its land".
Mayor Marvin Rees said: "When the railway is operating, we suffer a loss of £230 a day in our revenue.
"The railway sits on one of the few areas that we could use to generate funds."