Bristol transplant student's contact lens bug warning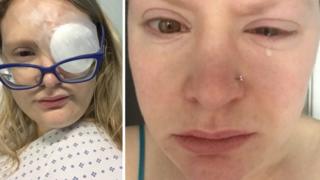 A student who had to have a cornea transplant after contracting a rare infection is warning people not to wear contact lenses while swimming.
Natalie Rance acquired Acanthamoeba keratitis (AK), an organism which eats away at the cornea, in April 2017.
The 24-year-old was infected after swimming in a pool with her lenses in.
She said dealing with AK was the worst pain she had ever experienced in her life.
"I couldn't even describe it," she said.
"It was months and months on end in absolute agony 24/7. There was no rest from it."
Ms Rance, who has worn contact lenses since the age of 11, said she only found out about the risks of wearing lenses in water after getting the infection.
"I vaguely remember being told about something that lived in water but I was a bit naive as to where the organism occurred," she said.
"I didn't realise quite how ubiquitous it was and you have this presumption that UK water is safe and that it would be in river water or other dirty water - not safe UK tap water."
Bristol Eye Hospital said it sees five cases of the disease every year and there are about 125 across the UK.
Four out of five cases happen in contact lens wearers.
Ms Rance lost the majority of sight in her left eye and had a corneal transplant in December.
She said she was nervous about swimming again.
"When I was first going in the water, I was incredibly nervous and when I did get in, it was like everything that had happened to me came out and I got really very emotional," she said.
"Once I'd got over the initial nerves, I was able to go under the water and swim around with the seals [off the Isles of Scilly], which made it all worthwhile."