Man arrested and two taken to hospital in Tesco store 'brawl'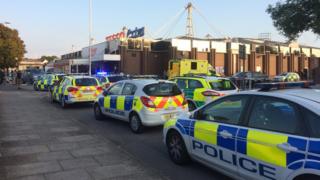 Two men received "serious but not life-threatening" injuries during a fight in a Tesco superstore, police have said.
Emergency services were called to the Eastville branch just after 18:30 BST following reports of an assault in progress inside the supermarket.
An Avon and Somerset Police spokesman said one man had been arrested but described the attack as "an isolated incident".
The two injured people have been taken to hospital.