Ben Stokes trial: Man tried to 'restrain player from attacking friend'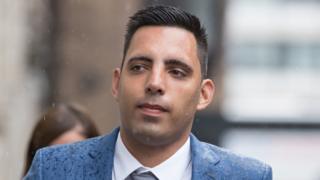 A man accused of fighting with England cricketer Ben Stokes tried to restrain the player from attacking his injured friend outside a nightclub in Bristol, a court heard.
Ryan Ali, 28 was allegedly knocked out by the Durham all-rounder in the incident outside Mbargo last year.
Mr Ali, of Bristol, is on trial with Mr Stokes at the city's crown court. Both men deny affray.
Ryan Hale, 27, was acquitted of the same charge on Thursday.
Mr Ali told jurors his recollection of events was "incomplete" after he suffered a "significant head injury" outside the club in the Clifton triangle area of the city in the early hours of 25 September.
The jury previously heard Mr Ali had suffered a fractured left eye socket, a cracked tooth and cuts and bruises, while Mr Hale suffered bruising and a cut to his forehead.
He said he could remember walking with Mr Hale and two gay men, Kai Barry and William O'Connor "having some banter" when he saw "what I thought was a tall blonde guy in the road charging towards me".
The court heard earlier that Mr Stokes stepped in to defend Mr Barry and Mr O'Connor, who he said Mr Ali and Mr Hale had made homophobic slurs towards.
Mr Ali recalled saying "I don't want any trouble" and said he was "trying to calm [Mr Stokes] down".
"He then turns his attention away from me and starts charging towards my friend, Ryan Hale, who is still unconscious in the road," he said.
"I saw that as an opportunity to try to restrain Mr Stokes to prevent him from attacking my friend who was laid unconscious on the floor."
Mr Ali denied being the "initial aggressor" in the incident and replied "definitely not" when asked if he had been looking for a fight.
Mr Ali is alleged to have threatened Mr Stokes' England teammate Alex Hales with a bottle during the altercation, while it is claimed Mr Hale broke off a metal pole from a nearby road sign after being allegedly knocked out by Mr Stokes.
Under cross-examination by Mr Stokes' defence counsel, Mr Ali agreed footage shown in court showed him striking Mr Barry with a bottle.
He said he accepted at one stage turning a bottle upside down in order "to defend myself".
Mr Ali said the last thing he remembered before waking up in the road was "backing away from Mr Stokes, and getting him into a headlock".
Asked why Mr Stokes may have charged towards him, Mr Ali replied: "I have no idea. I can make my own perception from all of the CCTV. He was very angry and he was looking for someone to pick on."
'Not looking for trouble'
Mr Stokes, of Castle Eden, Durham, was arrested in the early hours along with Mr Ali, of Bristol, and Mr Hale, of Westbury-on-Trym, Bristol.
The fight took place several hours after England had played a one-day international against the West Indies at the city's County Ground.
Earlier, the court heard from Mr Stokes's teammate Jake Ball who described him as being "in a good mood" before the alleged incident.
In a statement, read on Mr Ball's behalf by Mr Stokes's barrister Gordon Cole QC, he said: "He was chilled out. I would not say that Ben was drunk, he was calm, relaxed and controlled. He certainly was not looking for trouble."
The trial continues.