Ben Stokes trial: Cricketer 'not threatening or aggressive'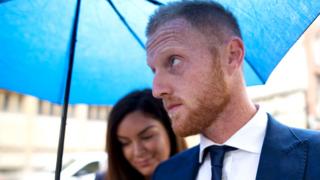 England cricketer Ben Stokes admitted throwing several punches at a man outside a nightclub in Bristol, a jury has heard.
The Durham all-rounder, who denies affray, has taken to the stand for a second day at Bristol Crown Court.
Mr Stokes, 27, said: "It's clear in my statements that I admit to throwing multiple punches."
He is on trial alongside Ryan Ali, 28, who the cricketer is alleged to have knocked out, outside the Mbargo club.
Mr Ali has also denied a charge of affray while Ryan Hale, 27, was acquitted of the same charge on Thursday.
Mr Stokes told the court he felt "constantly under threat" by Mr Ali and Mr Hale who he claims made homophobic slurs to two gay men, Kai Barry and William O'Connor.
But when questioned by the prosecution, he admitted "slapping" but not knocking out Mr Ali or being very drunk.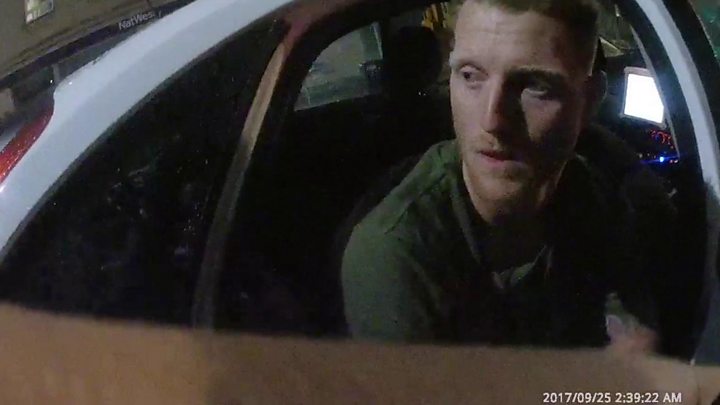 He agreed he had had at least 10 drinks, including pints of beer, vodka and lemonade as well as "a few" Jagerbombs, which are shots usually mixed with energy drinks.
Under cross-examination by Mr Ali's defence counsel, he was questioned whether he had misheard what was being said.
But, he maintained Mr Ali and Mr Hale made homophobic comments outside the club in the Clifton triangle area of Bristol during the early hours of 25 September last year.
Mr Stokes told the jury he was not "threatening or aggressive" towards the men.
"I'd say I was verbally saying 'I don't think you should be saying that to these two guys because they're gay'," he said.
He also said he could not remember the specific homophobic words used.
"As I've said I can't recollect anything specific, but I'm very clear the words used were a homophobic nature."
As the prosecution began its cross-examination of the cricketer, the jury was shown CCTV pictures from outside Mbargo, where he was denied entry.
'Effeminate nature'
Mr Stokes admitted trying to bribe doorman Andrew Cunningham with £60 to get in, but denied it was as much as £300.
He also denied being spiteful and aggressive or making derogatory marks about the doorman's tattoos or throwing a cigarette in his direction when he was refused entry.
The court heard Mr Cunningham perceived Mr Stokes as "mocking" the gay men's mannerisms" and mimicking "their voices and effeminate nature", which the defendant refuted.
Mr Stokes also denied being angry about not being allowed back into the club, where he was with fellow England player Alex Hales.
The court heard Mr Stokes had first played with Mr Hales in 2011, prompting prosecutor Nicholas Corsellis to suggest "you'd recognise his voice would you not?". The defendant agreed he would.
But when Mr Corsellis asked whether he heard Mr Hales call out to him, "Stokes stop, Stokes no…", during the incident, he said he did not.
"Did you not appreciate that the person who grabbed you by the arm was Alex Hales? Do you not remember he tried to grab you?," said Mr Corsellis, to which Mr Stokes said "no."
The cricketer also denied feeling enraged when his friend, Mr Hales was "ran at with a glass bottle" by Mr Ali.
Mr Stokes replied: "Throughout this whole incident my whole focus was where Mr Ali was and where Mr Hale was, from the moment I was verbally threatened and my friend Alex was run at with a glass bottle."
---
At Bristol Crown Court
Chris Sandys, BBC News
Ben Stokes's attire, demeanour, speech and poise have all remained the same throughout several hours of giving evidence.
Most of the time he remains standing, with the occasional request to sit which eases the back pain he is apparently suffering with.
Many of his responses have been short and mostly themed around having little memory of the night he is being quizzed over.
---
Prosecuting, Mr Corsellis asked: "Were you enraged?".
"No, at this time my sole focus was to protect myself," Mr Stokes replied.
He was then asked by the prosecution whether he tried to retaliate against Mr Ali after being disarmed by him, which he denied.
Mr Corsellis asked: "Is it what we see on the footage - an angry man who has lost all control?"
Stokes replied: "Absolutely not."
The trial continues.