Weston A&E's overnight closure to be reconsidered in Autumn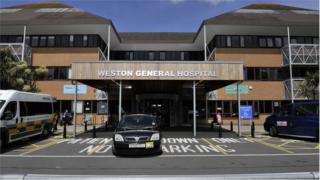 The boss of Weston General Hospital has said its overnight A&E is not yet ready to reopen, one year after it closed.
Weston Area Health NHS Trust made the decision last year following a critical report by the health watchdog.
Campaigners say the closure is putting lives at risk because patients have to travel to Taunton or Bristol for treatment.
Trust chief executive James Rimmer said the overnight closure will be reconsidered early in the autumn.
A safety notice was placed on the A&E unit by the Care Quality Commission (CQC) primarily because of staffing levels. The hospital says it has recruited more staff.
The CQC visited the hospital in January and noted major improvements, but said the new set up needed to settle in before it could re-assess its performance.
Mr Rimmer said: "If the CQC came in now, I'm convinced they would be able to lift that safety notice, as it's a safer, better department,"
'Having to travel'
At the moment, 12 people a night are transferred to hospitals in Taunton or Bristol for treatment.
Richard Lawson from the Save Weston A&E group said: "If you are injured badly, to get you to treatment within that hour is vital and has an effect on death rates.
"By having to travel to Bristol or Taunton that adds to it and people will inevitably die."
Taunton is about 28 miles away while Bristol is about 24 miles away but travel time can take up to an hour.
If the trust decides to close the unit permanently, it has promised to consult with the public, which would be in early 2019.
The campaign group is set to hold an overnight vigil on Wednesday and a protest march on Saturday.